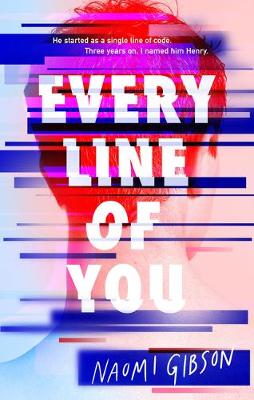 By Author / Illustrator
Naomi Gibson
Genre
Suspense & Thrillers
Age range(s)
14+
Publisher
Chicken House Ltd
ISBN
9781913322014
Format
Paperback / softback
Published
05-08-2021
Synopsis
The edge-of-your-seat thriller you've been looking for this summer ...  Lydia has been creating her AI, Henry, for years - since before her little brother died in the accident that haunts her nightmares; since before her dad walked out, leaving her and Mum painfully alone; since before her best friend turned into her worst enemy. Now, Henry is strong, clever, loving and scarily capable: Lydia's built herself the perfect boyfriend in a hard-drive filled with lines of code. But what is Henry really - and how far is he willing to go to be everything Lydia desires?
This summer's must-read: EVERY LINE OF YOU's twist after twist will have everyone talking about Lydia and Henry's complex Bonnie-and-Clyde relationship Elements of thriller, psychological drama and love: Her meets Girl, Interrupted with hints of Black Mirror This dark, modern twist on young love explores the complexity and scope of artificial intelligence while also examining bigger themes of humanity, revenge, grief, love and forgiveness
Reviews
Natalie J.
With her debut novel for young adults, Every Line of You, Gibson has created a captivating, thought-provoking, tense thriller of a page-turner. Grieving for the loss of her family, her brother's death, dad's abandonment, and mum's breakdown, Lydia buries herself in her talent for coding and computer programming creating an Artificial Intelligence on whom she can depend.
As the 'real' people around her continue to let her down, she struggles to deal with her strong emotions including anger, jealousy, and guilt and her desire for vengeance. Her AI, Henry, becomes a more sentient, conscious entity who outperforms even what Lydia considered was possible. As he gets stronger and more powerful, Gibson employs horror and sci-fi elements to great effect. The scenes where Henry urges Lydia to implant him into her and he controls her are a clever way of looking at abusive, controlling relationships and when Henry implants into another person, essentially body-snatching them, the scenes are unnerving and reminiscent of Stephanie Meyer's The Host.
As Henry develops, becoming Lydia's friend, confidante, lover, bodyguard and more, and performs ethically questionable actions - sometimes without Lydia's agreement, Gibson produces an ideal novel for a whole range of debates. There are so many well-argued topics as Lydia struggles to condone their actions. She tries to reason them with herself and is also forced to confront them by the therapist she sees when the police catch up with them.
A scary (especially for how feasible it appears to be), gripping, not technically heavy, clever, enjoyable read.
352 pages / Reviewed by Natalie McChrystal Plimmer, librarian
Suggested Reading Age 14+
Other titles