Everything You Need for a Treehouse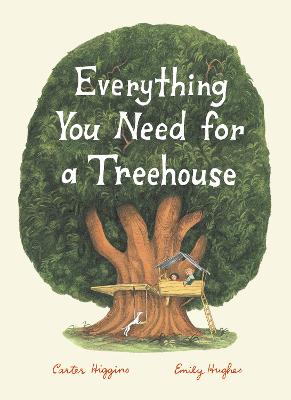 By Author / Illustrator
Carter Higgins, Emily Hughes
Genre
Picture Books
Age range(s)
5+
Publisher
Chronicle Books
ISBN
9781797211855
Format
Paperback / softback
Published
30-09-2021
Synopsis
This lyrical text from author Carter Higgins gives life and meaning to all the requisite elements of a treehouse, from time, timber, and rafters to a rope of twisted twine, so you can sprawl out on a limb and slide back down again. Higgins's text, filled with beautiful images and an incredibly readable assonant cadence, captures the universal timelessness of the treehouse and celebrates all the creativity, poignancy, and adventure inherent therein.
Reviews
Jane
Everything You Need for a Treehouse strikes me as a very conceptual book, with vocabulary that will be unfamiliar to many of its readers, as well as a poetic style that some would find difficult. And some of the illustrations don't even make sense - or is that me?
However, while it is not to be explained or even read aloud to a class (I've tried and the beautifully detailed pictures are too small to be appreciated at a distance), this book is perhaps one to pore over at bedtime or in a den. There are, after all, plenty of ideas on offer to help in the creation of your own treehouse. And, in dreams, as in picture books, things don't have to make sense, plus there are no adults telling you not to climb ladders or hold nails in your mouth.
It is, in fact, a book anyone could enjoy: the appeal of a treehouse is probably universal, as the illustrations make plain, with their myriad diverse characters. It's also a celebration of the scope for wonder in wild places.
Picture book / Reviewed by Jane Rew, school librarian
Suggested Reading Age 5+
Other titles