Evie's Magic Bracelet: The Unicorn's Foal: Book 4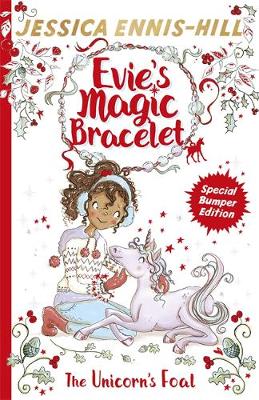 By Author / Illustrator
Jessica Ennis-Hill, Erica-Jane Waters
Genre
Adventure
Age range(s)
5+
Publisher
Hachette Children's Group
ISBN
9781444934427
Format
Paperback / softback
Published
05-10-2017
Synopsis
The fourth in a magical, exciting adventure by Olympian and World Book Day ambassador Jessica Ennis-Hill. Perfect for fans of Rainbow Magic and My Little Pony: a bumper special edition, with extra quizzes and activities.
What if you had a special bracelet that let you become invisible whenever you wanted?
Evie's grandma has sent her another parcel. Inside layers of tissue and colourful ribbons is a beautiful bracelet!
A unicorn foal is lost in the park! Evie's going to need the bracelet - and a brave heart - to help him. But she's always ready to have some magical adventures!
Evie shares Jessica's determination and drive - an inspiration for kids everywhere.

The full list of titles:
1. The Silver Unicorn
2. The Enchanted Puppy
3. The Sprites' Den
4. The Unicorn's Foal
5. The Clocktower Charm
6. The Fire Bird
7. The Golden Sands
Reviews
Lucy
Evie loves receiving magical parcels from her grandma; each one has a bracelet in with a riddle about the kind of magic it brings with it. Before long, Evie works out that the bracelet gives her powers to become invisible. The first mission she tries to complete with it is to sneak into her parent's wardrobe and take a sneak peek at her Christmas presents! Instead of finding them, she finds out some terrible news - how will she every enjoy Christmas? Evie begins to learn how her magic bracelet might help to enjoy Christmas after all. This is an interesting story with many magical adventures to enjoy! It's quite a thick book with lots of characters to meet and different scenes to explore. I would recommend this story to confident readers in KS1, as well as children in lower KS2. This is a lovely book to indulge children in their excitement of Christmas. It has a range of activities at the back to complete, as well as the beginning of the next story with some of Evie's other adventures. 127 pages / Ages 6 + / Reviewed by Lucy Newton, teacher
Suggested Reading Age 5+
Other titles