Family of Liars: The Prequel to We Were Liars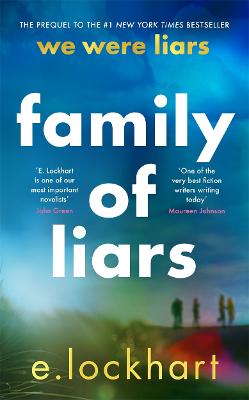 By Author / Illustrator
E. Lockhart
Genre
Suspense & Thrillers
Age range(s)
14+
Publisher
Hot Key Books
ISBN
9781471412271
Format
Hardback
Published
04-05-2022
Synopsis
The instant New York Times bestseller and prequel to the TikTok phenomenon We Were Liars. Return to the story of another summer, another generation, and the secrets that will haunt them for decades to come.A windswept private island off the coast of Massachusetts. A hungry ocean, churning with secrets and sorrow.A fiery, addicted heiress. An irresistible, unpredictable boy. A summer of unforgivable betrayal and terrible mistakes.Welcome back to the Sinclair family. They were always liars.SPOILER ALERT! Read We Were Liars first.(No word of a lie, it's better that way ...)
Reviews
Tanja
If you're looking for a psychological thriller that takes a scalpel to human nature, E. Lockhart's Family of Liars is a good choice. Caught on the whirlwind of Tik Tok celebrity for its predecessor, the plot twist sizzler We Were Liars, Lockhart's new novel is a prequel set in 1987. It explores the tangled lives of a different generation of Sinclairs. They live a charmed life of Lemon Hunts, celebrations, parties and Summer frolics on their own private island but beneath the glittering façade there are cracks in the stability of the foundation. What hasn't changed is their propensity for mendacity, dependency on medication, desire for romance and their diehard belief in family mottos to uphold their privileged lifestyle.
Troubled narrator Carrie [who mirrors the state of Cadence in We Were Liars] warns the reader, "I have been a liar all my life, you see. It is not uncommon in our family." Carrie and her sisters Penny and Bess, who later become the traumatised parents of the protagonists of the original novel, are consumed with "being a credit to the family and keeping a stiff upper lip". They are "drunk on the hot liquor of desire for parental approval".
The siblings are competitive and jealous for attention whilst trying to find themselves. They are Cinderella and her ugly sisters - or are they?  Fairy Tales are used as allegories throughout as Carrie relates her twisted tale to a guest who wants to hear about her past. She remembers a long, hot, crazy Summer when she was 17. Already dealing with demons, her world is blown apart when her cousin brings mysterious strangers to their island.
Inspired by Lockhart's trips to Martha's Vineyard and her glimpse of private islands as a child where she imagined teens living golden lives, the novel explores what can happen when illusions are shattered. As Post Traumatic stress takes hold, betrayal and unpredictability uproots belief in fairy tale romance, social expectations replace deep desires, and confusion, fear and self-preservation take hold, the dark belly of violence is revealed.
With complex characters, an extra twist and atmospheric, sensuous writing, this YA novel is a must read. It's not just a 'beach thriller'. While showcasing the 'trendy food' vibes and music of the late 1980's, it also shines a spotlight on the trials of adolescence. Primarily, it is an incisive look at how relationships can suddenly turn toxic, the cruelty of mind games and the long term damage caused by keeping dangerous secrets. Teens will be able to spot the red flags as this cautionary tale unfolds. While delighting fans of We Were Liars, it will also grip thriller aficionados on the hunt for the twist.
336 pages / Reviewed by Tanja, school librarian
Suggested Reading Age 14+
Other titles