Fantastically Great Women Who Made History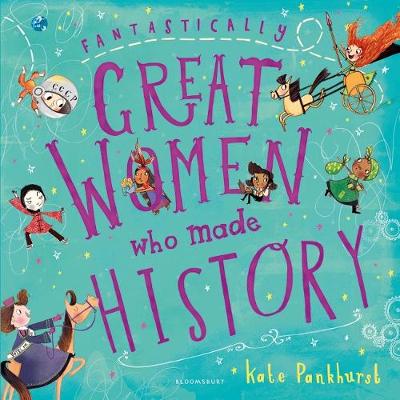 By Author / Illustrator
Kate Pankhurst
Genre
Biographies & Autobiographies
Age range(s)
7+
Publisher
Bloomsbury Publishing PLC
ISBN
9781408878903
Format
Paperback / softback
Published
08-02-2018
Synopsis
Kate Pankhurst, descendent of suffragette Emmeline Pankhurst, has created a wildly wonderful and accessible book about the accomplishments and adventures of many more brilliant women from throughout history.
· Travel through the Underground Railroad with the brave and courageous Harriet Tubman
· Turn the pages of the hauntingly brilliant Frankenstein with the incredibly talented Mary Shelley
· Blast into space with astronaut Valentina Tereshkova
· Become a mighty Egyptian pharaoh with the powerful Hatshepsut

Overflowing with vibrant and beautiful illustrations, and wonderfully engaging text, Fantastically Great Women Who Made History is a celebration of just some of the inspirational women who put their mark on the world we live in. A fantastic gift for girls and boys alike!  List of women featured: Elizabeth Blackwell, Qiu Jin, Boudicca, Flora Drummond, Pocahontas, Noor Inayat Khan, Harriet Tubman, Valentina Tereshkova, Ada Lovelace, Sayyida al-Hurra, Hatshepsut, Josephine Baker, Mary Wollstonecraft, Mary Shelley
Reviews
Lucy
Fantastically Great Women Who Made History opens by showing the journey of the woman who are featured, explaining how they have all made history as well as challenging the reader to think about how they are going to make history themselves.
This is an inspirational book which pieces together information about some key women in history. With the double page spread on each woman, it explains their journeys to greatness including any troubles they faced. This book includes information about Boudicca's rule over the Iceni tribe, Dr Elizabeth Blackwell's quest to become the first woman to earn a degree in medicine, and the energetic performer Josephine Baker.
Any children who are keen to learn about historical people or have any topical links in school will find this a very useful and user-friendly place to start. Each page is covered in colour and illustrations to bring the stories to life and the text is split into handy sections. Speech bubbles and different fonts are used to attract attention to the most important bits of information.
Picture book / Reviewed by Lucy Newton, Teacher
Suggested Reading Age 7+
Other titles