Finale: Caraval Series Book 3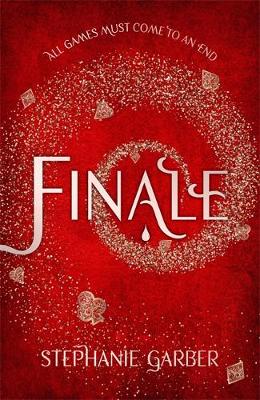 By Author / Illustrator
Stephanie Garber
Genre
Fantasy
Age range(s)
11+
Publisher
Hodder & Stoughton
ISBN
9781473666764
Format
Hardback
Published
09-05-2019
Synopsis
'Extravagantly imaginative and enchanting . . . Pure magic and escapism' Cecelia Ahern
Sunday Times and #1 New York Times bestselling author Stephanie Garber takes us once again to the magical world of Caraval, where Scarlett and Tella Dragna must fight for their happy endings. . .  Caraval is over, but perhaps the greatest game of all has begun - with lives, empires, and hearts all at stake. There are no spectators this time: only those who will win, and those who will lose everything. Welcome, welcome to the Caraval's Finale. All games must come to an end . . .
Reviews
Linda
Finale picks up two months after the end of book 2, Legendary. The Fates have been roaming the streets of the city causing distress and disorder. Legend has claimed the throne of the city as his own and is awaiting his coronation. Tella is conflicted; who does she trust, who does she give her heart to?
This is the first love triangle in the story - Tella, Legend and Jacks. This theme weaves itself in and out for most of the novel; however, the second love triangle between Scarlett, Julian and Nicholas, is equally important to the plot but, due to some horrific circumstances, doesn't last so long. What this part of the story brings to the reader is a deeper look into The Fates, how they evolved and what their individual powers are. The history and the folklore that surrounds them is totally engaging. One of the things I loved was the illustration of the Map of All at the beginning of the book and then went on to learn its power! (there is also a glossary at the back of the book listing all The Fates).  You will either love The Fates or hate them! 
The author has once again brought lots of returning characters into the plot, which makes the story familiar and the flow much easier. One little difference is that it's a dual narrative. In this final chapter of the story, Scarlett takes a leading role so we get her POV along with Tella's, making this familiar, unique story fresh and captivating. We are also introduced to new characters that help make this story even more magical and mysterious.
Finale has 460 memorable pages. The author Stephanie Garber has merged the following themes that will keep the 14+ YA reader engaged in her well written pages.. magic, illusion, fear, betrayals, violence, torture (plenty of blood); along with all of this she has also wrapped quantities of love.
Finale, with all its twist and turns, is created in such a perfect way that it is a world that will delight everyone. I wish I had this author's imagination! I highly recommend the whole Caraval series, so if you haven't already started them, go get copies now, you will not be disappointed. I will miss these characters and the magic of Caraval.
480 pages / Ages 14+ / Reviewed by Linda Brown, school librarian
Suggested Reading Age 11+
Other titles