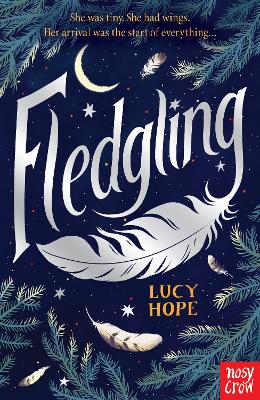 By Author / Illustrator
Lucy Hope
Genre
Magical Realism
Age range(s)
9+
Publisher
Nosy Crow Ltd
ISBN
9781839941887
Format
Paperback / softback
Published
04-11-2021
Synopsis
A dark, gothic adventure set deep in a Bavarian forest, with angels and owls and magic and a boy who isn't all that he seems to be...  A cherub is blown into Cassie Engel's bedroom during a thunderstorm, triggering a series of terrifying events. Cassie must discover if its arrival was an accident or part of something more sinister. 
With a self-obsessed opera singer for a mother, a strange taxidermist father, and a best friend who isn't quite what he seems, Cassie is forced to unearth the secrets of her family's past. As the dark forces gather around them, can Cassie protect all that she holds dear?
The fantastic debut novel from Lucy Hope, with cover illustration by Anna Shepeta.
Reviews
Jo
Wow! Fledgling arrived at my door and I was unable to release it from my grasp! It is moving and mesmerising, weaving a hypnotic spell with eerie elements of gothic horror and steampunk inventiveness with celestial beauty.
Set within the Bavarian forest, Fledgling has echoes of a Grimm Fairy tale. The mysterious forest seems to whisper secrets and to release an atmosphere of foreboding. Overlooking these woods is the toppling, eccentric home of our main character, Cassie Engel. Successive occupants of the house have added layers to it and now it teeters full of zany, almost endearing inventions like the 'zip' - a steam-powered platform that acts as a lift to get from storey to storey and a mechanical roof that opens at the pull of a lever. Within the walls of the house are collections reflecting the interests and hobbies of Cassie's ancestors. The smell of tobacco smoke lingers in the library; the sound of her mother's opera singing fills the air and stuffed owls in glass cages keep a watchful and sinister eye.
Cassie is a lonely figure; her mother is preoccupied by her singing, her father is traumatised by his wartime experiences and her frail grandma lies in her bed attached to a morphine drip, waiting to die. It is Cassie who maintains the house; her resilience and self-sufficiency are integral to the family's day-to-day existence but are overlooked by her parents, who are too wrapped up in their own lives to notice her. Cassie has one true friend, Raphael. He is kind, warm and understanding. The two have a bond that offers hope.
One night, during a particularly violent storm, something crashes against the window. A cherub. Tiny and owl-like, this creature turns Cassie's life upside down. Seeming to thrive on Cassie's love and attention, the cherub can appear vulnerable at times but it is also fiercely protective, watchful and wise. In their quest to uncover meaning behind the arrival of the cherub, Cassie and Raphael discover secrets that, once exposed, cannot be hidden. As they attempt to understand the reason for the cherub's appearance, Cassie and Raphael become aware of a threat looming in the dark skies; the Sturmfalken. The Sturmfalken, they discover, are predatory birds with a jealous rage who have insatiable desire for celestial space and who will stop at nothing to prevent the rising of angels.
The plot is intricately spun and there is tense, edge-of-your-seat drama and heart-rending tenderness. Characters are not always who you think they are, and the finale is a surprise tinged with sadness and poignancy. The subtle details scattered within the pages, like the crumbs of a Hansel and Gretel story, lead you to an ending that is satisfying and yet will leave you wanting more. Each character, action and prop has a reason and purpose and it is only when all of the elements are finally aligned at the end can you really appreciate Fledgling's skillful crafting. There are echoes of Skellig in Fledgling and Lucy Hope acknowledges David Almond as being her inspiration. This is a truly beautiful work of art which flutters like a surreal dream. Heavenly.
272 pages / Reviewed by Jo Clarke, teacher
Suggested Reading Age 9+
Louisa
Cassie Engel's home life is unusual. Her mother is an eccentric opera singer who spends most of her day singing and her father, broken by the war, takes refuge in drink and taxidermy. They live in a tall house built by her great grandfather on top of a tall rock, reached by a helter skelter road and surrounded by a Germanic forest. Cassie's best - and only - friend, Raphael, is the son of the local cobbler.
The setting and characters in Fledgling spin a fairy tale atmosphere against which a story of a struggle against grim forces begins to unfold. At the height of a wild storm, a cherub blows through the window and Cassie's life begins to change at a pace that keeps up with the rapid twists and turns of the plot. Her feelings lurch from confusion to unease and then outright fear. Will she, the cherub and her friend Raphael be strong and nimble enough to overcome the darkness that is encircling them, even though they don't fully understand it?
I enjoyed the imaginative reworking of motifs from folklore and fairy tales for an older audience. The way the book combines them with the religious imagery of angels could open the door to some questions about the nature of the human and the divine but the book leaves these unspoken. The focus is the story: an adventure with a strong female heroine and plenty of action to keep the reader turning the pages. I will be recommending it to the children in Year 5 and 6 who have enjoyed books by Michelle Harrison (A Pinch of Magic) or Sophie Anderson (The Girl Who Speaks Bear).
288 pages / Reviewed by Louisa Farrow, teacher
Suggested Reading Age 9+
Other titles