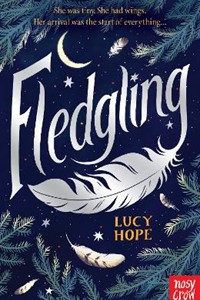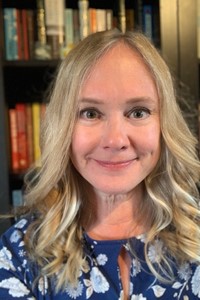 About Author
Lucy Hope grew up in North Wales, though now she lives in the Cotswolds. After jobs ranging from managing telecoms products to working in schools, she did a master's degree in Writing for Young People at Bath Spa university. Fledgling is her first novel.
Download a chapter from Fledgling
Interview
Fledgling  (Nosy Crow Books)
November 2021
Lucy Hope's remarkable debut novel, Fledgling, is a story about angels, cherubs and an ordinary girl, Cassie Englel, who finds herself in extraordinary circumstances. We asked author Lucy Hope to tell us more about what inspired the story, and how the mystery at the heart of the story developed. 
Q&A with Lucy Hope

1. Fledgling is your debut novel - what brought you into writing for children?
I've had all sorts of jobs over the years, ranging from designing colour schemes for commercial spaces, working in schools as a teaching assistant, running a small business supplying BBQ huts, and designing websites for schools. I did a business studies degree at university, and worked for several years for a big telecoms company, but didn't enjoy that very much. I always dreamed of one day being a children's writer, but never really believed I could until I was offered a place on the MA in Writing for Young People at Bath Spa University. I'm now writing full time.

2. Can you tell us a little about your debut, Fledgling?
Of course! Fledgling is a gothic adventure set in the foothills of the Bavarian Alps. Cassie Engel lives in a peculiar house perched high on a rock overlooking the town of Edenburg and the Bratvian forest. One day during a thunderstorm, she hears a knock at her window. Intrigued, she opens it, and a cherub is blown into her room, heralding the start of a chain of terrifying events. Cassie must work out what is happening around her with the help of her friend, Raphael, and soon has to fight to protect everything she holds dear. I'd say that Fledgling is essentially a story about love, family, and perhaps hope.

3. What inspired the idea of bringing a cherub to Earth?
One of our first assignments on the MA in Writing for Young People was to write a small piece inspired by David Almond's Skellig. Excited by the task, I spent several nights unable to sleep, thinking about the angel in the garage in Skellig, wondering what it must be like for a child to suddenly find a celestial being in their life.
I decided my creature would be a cherub rather than an angel because I loved the idea of creating something unusual and not often written about in children's books. I spent the next week writing the opening scene and getting to know the cherub. I loved the idea of it being enigmatic and with motives that were a little unclear!

4. Did you plot the story before you started to write it?
I wish I was a plotter, but no I didn't plot the story first. I wrote the opening scene, and as I did so the final, dramatic ending popped into my head almost as if it was a scene from a movie - it was very visual. I then had the difficult job of working out what came in between!
Fledgling is written in the first-person, present tense, so I felt a strong sense that I was discovering the story with Cassie as it unfurled. After writing each scene, I'd have to take some time to try and work out what was happening before writing the next one.
Even though this method of writing a book can be scary, I discovered possibilities and plot lines that might not have happened had I plotted it all out first. Every time I sat down to write, I felt as if I was stepping into Cassie's world, living the story with her. It was an extremely immersive experience for me as a writer.

5. How did the setting - Edenburg in Bavaria - develop, and did you base it on a place you know?
Edenburg is based on a small town in the foothills of the Bavarian Alps called Hohenschwangau. It's dominated by the magnificent Neuschwanstein Castle, which is far grander than Cassie's strange house. On the outskirts of the town are giant rocks that could easily hold a substantial home, and I loved the idea of Cassie's family being slightly removed from reality by the location of their house, high above the town, surrounded by the turbulent weather conditions of the Alps.
This area is dominated by deep, dark forests and I was excited by the fairy-tale feel I could give to the story whenever Cassie ventured into its depths. I was able to visit Hohenschwangau during the editing stage, which helped me to add more depth to the story.

6. Can you tell us a little about your main character, Cassie Engel? 
Cassie is strong, brave and independent, having had to shoulder the responsibility of looking after her house and family for so long. I liked the idea of her being someone who just gets on with things in the face of enormous challenges. But like us all, she needs to be loved and to love too; I felt a great sense of sadness about her as her story developed, because she doesn't get the emotional support she needs, especially since her beloved Grandma became unwell.

7.  How do you develop your characters - do you know them well before you start to write or do they grow as you write?
For each character, my approach to 'finding them' was a little different. Cassie and her mother arrived in my head almost fully formed; I could even hear their voices, as if they were in the room with me as I wrote. With Papa, it took a little longer to discover him, but then when he finally arrived he did so in all his complexity and brilliance!
When I write I seem to feel my characters instinctively, as if they actually exist, so I allow them to come to me in their own time. I don't always know them in detail to begin with, but they grow as the plot progresses, like getting to know real people. Crunch and Grind arrived absolutely fully formed, even down the colour of their woollen socks. They were probably the characters I loved writing the most, and their names just popped into my head, and seemed so perfect I didn't have to think about alternatives.

8. Cassie is surrounded by mysteries. How did you plot all the links and clues through the story?
The plot, with all its links and clues, developed as I wrote Fledgling. Sometimes I'd include details as I wrote the story, thinking they might come in useful later on, but would have to go back and remove them when I realised they weren't needed. At the editing stage I added some extra clues here and there, which I really enjoyed doing. Quite often something would feel important (like the owls!) and then later on in the story I'd realise why they were there. I had the strongest sense that everything in Cassie's house must have a purpose.

8. How did you decide on the 'rules' for your angels and cherubs? What inspired you to link the cherub and owls?
I didn't consciously decide on a set of 'rules' for the celestial creatures. I made the decision early on that the cherub shouldn't speak, and this presented various challenges, but I hope the reader is able to infer her intentions and frame of mind from her demeanour. I decided she shouldn't have a name as she is essentially a wild creature.
To avoid the angels feeling clichéd, I spent a lot of time thinking how to make them different to the way they're traditionally portrayed. As with much of the book, they arrived in my mind feeling quite well developed already. In terms of linking the cherub and the owls, this idea stemmed from my belief that everything in the house must have a purpose.

9. Cassie's home is full of troubled atmospheres and oddities - how did it grow, and what is your favourite invention?
Much of my description of Cassie's house and the inventions within it were driven by its unusual shape and location. Being tall and exposed to extreme weather, I felt it would move with the weather, causing the building to groan, and with its dark history, I felt that it must retain a certain sadness within its walls.
My favourite invention is the 'zip', which seemed a necessity with the number of storeys in the house; when I designed it I had a clear image of Cassie's papa flying up it, his hair wild, his coat tails flapping. I didn't need to write that scene in the end, but it helped me to visualise what it looked like.

9. How long did it take you to write Fledgling, and is the final book very different from how it started?
I wrote Fledgling during my year-long MA course. The final book is quite similar to how it was at the end of the MA, but when I started editing the book with Nosy Crow, I added a new scene to the middle and removed extraneous sentences and similes. The opening scenes are almost unchanged from the original version I wrote early on in the MA.

10. Will you be returning to Cassie's world? 
I'd love to if I ever get the opportunity. Cassie's world is a happy place for me and I feel quite at home there, so would be delighted to return one day. I'm currently writing a Victorian ghost story. I try to write most days in my study or curled up on the sofa under a blanket.

12. What kinds of books do you enjoy reading?
I enjoy reading different types of books and read a mixture of children's and adult fiction. I love the gothic classics, such as Rebecca and Bram Stoker's Dracula, and recently read Hamnet, which I adored. Of course my favourite children's book is Skellig, but recently I've read some incredible children's fiction, including A Skinful of Shadows by Frances Hardinge.

13. What are your favourite escapes when you have a day to yourself?
I love to spend time in museums researching ideas for my current novel, and spend too much time in coffee shops, thinking up plot ideas. I have an elderly camper van and love having adventures, exploring places I haven't been to before.
Author's Titles