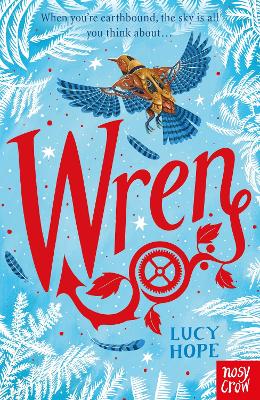 By Author / Illustrator
Lucy Hope
Genre
Adventure
Age range(s)
9+
Publisher
Nosy Crow Ltd
ISBN
9781839947230
Format
Paperback / softback
Published
06-10-2022
Synopsis
A dark, gothic adventure set on the island of Anglesey in North Wales and featuring a very fantastical beast...    Wren lives in an ancient castle in the mountains near the sea. The wind whistles through it and the walls sing to her. Wren is busy inventing things, and her father is busy disapproving.  But the castle contains a mystery and as Wren is drawn further into it, she realises the answer lies in the very foundations of her home, foundations that are being shaken to their core...  The next fantastic novel from Lucy Hope, author of Fledgling!
Find out more from author Lucy Hope
Reviews
Jacqueline
Wren lives in an ancient house near the mountains, by the sea in Wales. The house is falling down, and cracks appear all the time. There are also strange noises coming from somewhere deep inside the house. Wren is busy inventing things, copying her mother who died while experimenting with a flying machine. Her father does not approve and is threatening to send her to a correction school, to have the wilfulness knocked out of her. Wren, however, is not easily daunted and starts to make her own flying machine, whilst at the same time trying to solve the mystery surrounding her home.
Wren is steeped in old Welsh legends and the clue about the mystery is beautifully depicted on the front cover by David Dean. This is a wild Welsh adventure, with excitement and fantasy woven together. The story is infused with legend and pieces of history and Wren herself is a wonderful, feisty heroine. This is a book to use if you are teaching about legends as it wraps real legends into a fictional story that give it an edge of 'maybe this could really happen'. It is also beautifully written and evocative of the Welsh coast on Anglesey. I wanted to get out a map and see if such a place really existed!
This is Lucy Hope's second book and it has now made me want to read her first, Fledgeling, which sounds as if it has some of that same fantasy feel rooted in a historical setting.
241 pages / Reviewed by Jacqueline Harris, teacher
Suggested Reading Age 9+
Donna
I loved Lucy Hope's previous book, Fledgling, with all its darkness and mysterious elements, so couldn't wait to read this one. I was not disappointed! Wren is Welsh folklore at its best.
The story follows the eponymous Wren - a strong female role model who is headstrong but above all determined, loyal and compassionate. Her mother died in a freak accident which left her aunt - Efa - unable to walk. Her mother was a daredevil who always pushed the boundaries and it seems like Wren is following in her footsteps, much to her father's disappointment. He feels that he has no other choice but to send her away to Anglesey Institute for the re-education of Young Women.
The house in which Wren, her father, Aunty Efa and younger brother Tudur live has been in the family for ever! It was built by an ancient ancestor of Wren, yet there is something unusual about it - something which she doesn't quite understand. Whenever she mentions it to her father, he dismisses it and puts it down to her over active imagination. However, Wren and her only friend Medwyn set out to investigate.
The array of many different characters in this story - such as the slightly eccentric Emrys - add to the bond between the past and present of the house - and its secrets!!!  This is a wonderful book for anyone who loves a story which builds in mystery as you read further into it. The Glossary is a brilliant addition, too.
Pages 241 /  Reviewed by Donna Ritchie, teacher
Suggested Reading Age 9+
Other titles