Fly High Crew: The Green Glow (2021's most exciting kids' book from the Diversity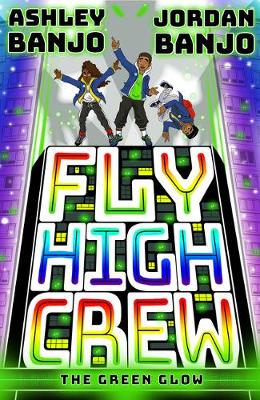 By Author / Illustrator
Ashley Banjo, Jordan Banjo
Genre
Science Fiction
Age range(s)
9+
Publisher
Scholastic
ISBN
9780702306440
Format
Paperback / softback
Published
01-04-2021
Synopsis
An action-packed, laugh-out-loud, high-energy story for boys and girls featuring adults taken over by aliens and a brave group of kids who must work together as a team to stop them! From TV personalities and Diversity street dance superstars, brothers Ashley and Jordan Banjo. Brothers Trey and Jax spend after-school hours rehearsing with their street dance collective the Fly High Crew, until the evening they see a green beam of light flash out of the sky and are thrown into an out-of-this-world adventure! Aliens have landed and are mind-controlling all the teachers and adults: can the Fly High Crew work together as a team and save the day? Written in collaboration with Alexandra Sheppard Full of fantastic art by Dionna Gary Bunn For fans of Tom Fletcher and Alesha Dixon.
Reviews
Matthew

- Age 11
Fly High Crew - The Green Glow is a book full of action, aliens and a tight-knit crew who would do anything for each other. The twists and turns of the alien invasion keeps the reader guessing, putting them fully in the shoes of the adventurous crew experiencing such extraordinary events occurring in their school and homes.
Despite the narrative's attempt to engage the reader, it is written with an overuse of dialogue which does not do much to convey adequate detail to characters or settings. As a result, the fluency of the storytelling lacks substance. Children aged 9+, however, would find it interesting to read with Jax holding the storyline together. The crew depicted in the story are relatable to many friendship groups which will appeal across many demographics.
In the classroom, Fly High Crew could be used as an example of an adventure story in Lower Key Stage 2. The arrival of aliens, gradually infiltrating human life, is an interesting narrative which could be used as a model whilst children plan their own story maps around it. Dialogue between characters could also be explored, in particular, direct speech.
Overall, it would be a good story for individual readers but not one for class consumption.
320 pages / Reviewed by Matthew Lappin, teacher
Suggested Reading Age 9+
Other titles