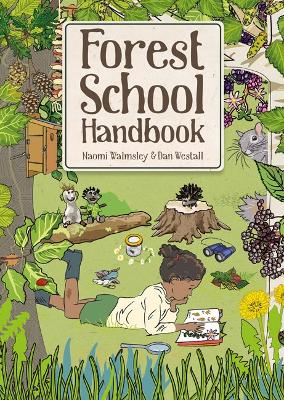 By Author / Illustrator
Naomi Walmsley, Dan Westall
Genre
Environment
Age range(s)
9+
Publisher
GMC Publications
ISBN
9781784946654
Format
Paperback / softback
Published
09-05-2023
Synopsis
Forest School Handbook is lively collection of activities, crafts, bushcraft skills and nature-based play which will inspire kids to thrive outside. Whether just popping out for a walk, going camping or exploring in the woods, this handy-sized book will be your essential guide for connecting with the natural world. Packed with ideas and activities for children of all ages, there are bushcraft basics, survival skills, nature crafts and ideas for both energising and peaceful outdoor play.
Encouraging controlled risk taking, boosting social skills, wellbeing and a healthy resilience, this is the ultimate way to avoid battles over screen time and classroom-induced fatigue. Build a shelter from what you find around you, design a natural collage, tie useful knots, get to know a tree, light a fire, filter dirty water, make charcoal, go on a night walk, make a bug hotel, create a mini village, whittle a stick and much more.
Reviews
Jenny
Forest School Handbook is a fantastic forest school guide written by two absolute experts in bringing practical learning, fun activities and survival skills to children in the great outdoors. The book is packed with information, ideas and explanations that cover a huge range of bush craft skills.
Outdoor play and experiences are at the forefront of ensuring the wellbeing and positive mental health of our children and this book is an excellent resource to use. It helps adults and children safely and confidently immerse themselves in nature themed learning and fun.
The authors are clearly passionate about what they do. The layout of the book is very visually appealing with clear, large photographs showing children undertaking the activities and step by step visual instructions throughout. The contents page clearly divides the types of skills it covers into helpful categories - whether the focus is the whole section on practical tasks making fire or on getting crafty and playful by creating art and collages with leaves.
There are some lovely, inventive activities in the book - making mini dens and goblin villages were some of my favourite ideas. Every activity is clearly laid out with the age range, time, tools and materials you will need and with handy tips and warnings/safety guidelines.
I think there is so much that the reader can take from this brilliant book, whatever the restrictions or freedom of their own natural landscape. This book explores tasks that will be accessible and suitable for many different outdoor settings from back gardens to larger areas of parks, woods or forests.
As someone working in a city school that is trying to implement some forest skills learning, this book has exciting, relevant and achievable ideas that would really captivate our pupils. It is a glossy, useful and delightful book - with obvious expertise and enthusiasm behind it.
168 pages / Reviewed by Jennifer Caddick, teacher
Suggested Reading Age 7+
Other titles