Glow Up, Lara Bloom: the secret diary of a teenage catastrophe!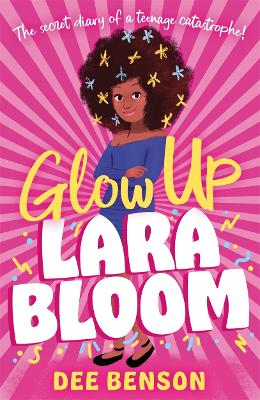 By Author / Illustrator
Dee Benson
Genre
Friends and family
Age range(s)
11+
Publisher
Hot Key Books
ISBN
9781471412912
Format
Paperback / softback
Published
02-02-2023
Synopsis
MY NAME IS LARA BLOOM AND THIS IS MY LIFE . . . Meet Lara Bloom - the best friend you never knew you needed. This is her diary . . . When Lara meets super-cute new boy Caiden, she begins to think that the way to his heart is to give herself a glow up. But her friends are not impressed. You should never glow up for a boy, only for yourself!As Lara and her friends embark on their project of empowerment and self-love, Lara shares her innermost thoughts with her online journal. How can she keep her hair under control when she's playing football? Why is she so fast on the pitch yet so uncoordinated off it? And how will she ever convince Caiden to take an interest in her?With her worries safely locked in her top-secret journal, Lara is on track to unlock the glow-up of her dreams. Surely nothing could possibly go wrong . . .?!A heart-warming story of friendship, crushes and learning to love yourself. Perfect for fans of GEEK GIRL, Louise Rennison and Alesha Dixon.
Reviews
Linda
Lara Bloom is a teenager that shares her innermost secrets with her diary, that is until her older brother gets a good read of it and threatens to air her secrets if she doesn't do his chores! However, her best friends find an online journal for her to use, which she finds amazing. Lara is the super best friend that every girl should have, as her friends mean everything to her. However, when she meets new boy Caiden, she can't get him out of her head. She questions herself, to her friends annoyance, as to how will she ever get him to like her when she can't control her hair, has constantly ultra-embarrassing moments, and do boys even actually like girls that play football? - which is the only time her feet and brain are in total coordination!  It's time for a glow-up, but is this for the boy or for herself?
Glow up, Lara Bloom covers the agony of school life and the humour of friendship and discovering boys for the first time. For older readers, it will be a trip down memory lane, and for younger readers very relatable. The novel is set out in a diary format and in it, the author covers issues from bullying, self esteem, confidence, older sibling relationships, parents( whose parents were ever cool at that age?) and friendships. It would be great for intervention/book groups, due to the many discussion opportunities.
This is a great debut novel that many young girls will be able to relate to and will find themselves laughing along with the hilarious situations Lara finds herself in. A great read for 2023. 
368 pages / Ages 12+ /  Reviewed by Linda, school librarian
Suggested Reading Age 11+
Clair
I was not expecting to enjoy reading Glow Up, Lara Bloom quite as much as I did. To be honest, this isn't the type of book that I would usually pick to read for myself but I absolutely loved it! When Lara's brother Daniel discovers her diary, Lara turns to an online app in which to confide her innermost thoughts and feelings. Glow Up; Lara Bloom has a really great message about self-esteem and being true to yourself. It is a feel-good read where Lara's friends support one another in their quest to 'Glow Up' and better themselves for themselves.
Dee Benson has written a book that I'm sure most teenagers will be able to relate to. It has a down-to-earth, open and honest writing style. I know it will appeal to those that like to read a book that is in diary form and Glow Up is also packed full of humour. It will also appeal to girls who like playing football as Lara is one of the most talented players on the girls' school football team. They are trying to achieve a record 100 matches unbeaten and if they do, the school will throw a party - no pressure then!  
Lara also hopes to win the heart of new boy Caiden. However, she has competition in the form of Sienna and her clique who seem to be spreading rumours about her. She already feels clumsy and awkward around him.  A great book to recommend to fans of Dork Diaries and Angus, Thongs and Perfect Snogging.
368 pages / Reviewed by Clair, school librarian
Suggested Reading Age 11+
Other titles