Gods and Monsters - Mythological Poems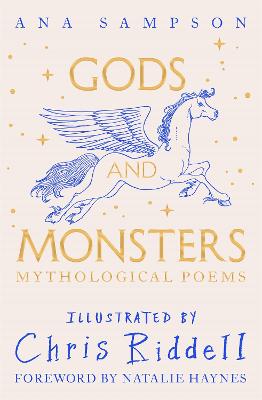 By Author / Illustrator
Ana Sampson, Chris Riddell
Genre
Poetry
Age range(s)
7+
Publisher
Pan Macmillan
ISBN
9781035023011
Format
Hardback
Published
14-09-2023
Synopsis
A stunning gift book drawing together mythological poems - classic and brand-new - from around the world, illustrated throughout in black and white by award-winning former children's laureate Chris Riddell. Compiled by bestselling anthologist Ana Sampson, with an introduction by Natalie Haynes, author of Stone Blind.

People all over the world have always told each other stories. And from the very earliest times, many of these stories were told in verse. This collection of poems includes retellings and reimaginings of Roman, Greek, Egyptian, Norse, Celtic, Aztec, Japanese and Inuit mythology.

You will meet gods, monsters, tricksters, heroes, magical creatures and objects, magicians and spirits including Medusa, Icarus, Loki, Osiris, the Minotaur, Pegasus, Bunyip, Kukulcan, Cerberus, Beowolf and Mjolnir and there are footnotes to shine a light on stories themselves.

Includes poems from Neil Gaiman, W B Yeats, Kae Tempest, Sylvia Plath, Shakespeare, Benjamin Zephaniah, Joseph Coelho and many more. . .
Reviews
Sue
Combing two of my favourite things-poetry and mythology, Gods and Monsters was always going to be a personal reading paradise, but this fabulous collection exceeded even my high expectations! It is a veritable dragon's horde of joy in poem form.
Loosely grouped into ten sections, the book covers poems reflecting a diverse range of myths and legends from across the world, written by an incredible range of poets. Through these works, readers will re-encounter old favourites and discover a wealth of new ones whether they work their way through the collection as a whole of dip in and out as they please. Many of the poems included are perfect for using as a story time, enriching children's experience of poetry and expanding their knowledge of 'the old stories'.
'Arachnophobia' by Kate Wise offers a perfect starting point for discovering the story of Athene and Arachne and the etymology of the title whilst the poem 'Did you know earthquakes come from a catfish?' explores the Japanese mythology. There are so many poems which could lead to further discovery as well as being enjoyed in their own right. Classics like 'The Odyssey' and 'Jabberwocky' mingle with more recent works. The opening poem, 'Faith' by Dawn McLachlan, was new to me and is now a firm favourite! There are humorous poems- 'Mrs Icarus' (Carol Ann Duffy) or 'Going to Bed' (A F Harrold), for example, as well as moving ones, all beautifully illustrated by the incomparable Chris Riddell whose skill manages to capture each mood and feeling. There aren't enough stars for this one!
320 pages / Reviewed by Sue Wilsher, teacher
Suggested Reading Age 9+
Other titles