Goldilocks and the Three Crocodiles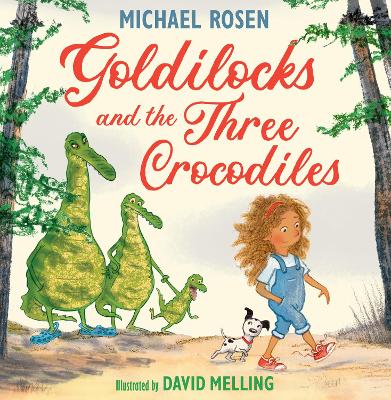 By Author / Illustrator
Michael Rosen, illus David Melling
Genre
Fairy Tales & Folk Tales
Age range(s)
5+
Publisher
HarperCollins Publishers
ISBN
9780008509880
Format
Hardback
Published
15-09-2022
Synopsis
A fabulously funny take on a classic story from two giants of children's books!   Goldilocks and her little dog are off on an adventure, looking for that house again - the one with the chairs, the porridge and beds. The sound of the sea calls to them and before they know it, they have found quite a different sort of a house . . . there are bowls, and chairs and sort-of beds . . . plus some rather unexpected and hilarious inhabitants!  From Michael Rosen, the highly regarded author of We're Going on a Bear Hunt, comes this wonderful new take on the famous nursery tale, brilliantly brought to life by David Melling, the creator of Hugless Douglas.
Reviews
Maria
Goldilocks is back! Thanks to the well known author Michael Rosen and illustrator David Melling, we are reunited with the much loved character of Goldilocks in Goldilocks and the Three Crocodiles. But this time we meet her pet dog, Tiddles!
In this fantastic alternative to the well known tale of Goldilocks and the Three Bears, we are taken on a similarly structured tale through the beach to a cave where Goldilocks persists in finding the perfect chair, food and bed. Will history repeat itself or will Goldilocks finally learn not to be the unwanted visitor in a family's home?
This text covers everything you need to teach story writing and is the perfect example of innovating a known story. This high quality text introduces the reader to a range of skills, from descriptive vocabulary choices, speech and text size; you can't go wrong with this book. The bold, detailed illustrations add great context to the story and will assist in younger and the less able readers being able to access and understand the story in more detail. All round, a great book to use as a teaching aid or to expose children to new literature.
Picture book / Reviewed by Maria Faithorn, teacher
Suggested Reading Age 5+
Other titles