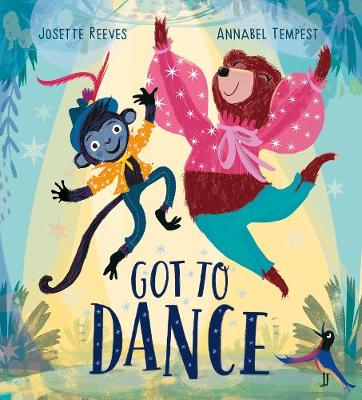 By Author / Illustrator
Josette Reeves, Annabel Tempest
Genre
Picture Books
Age range(s)
3+
Publisher
Storyhouse Publishing
ISBN
9781916281820
Format
Paperback / softback
Published
28-01-2021
Synopsis
Magnus loves to dance - and loves being admired as the best dancer around. So when Betty comes to town and everyone thinks her dancing is even better, Magnus gives up altogether.   A funny, touching and triumphant story about a monkey who finds his confidence and learns to love the things he does for their own sake.
Reviews
Judith
A joyful story about the power of dance and a lesson about enjoying yourself, even if you are not always the best. Meet Magnus, the monkey, a creature of many talents but his favourite activity is dancing, and everyone agrees that he is the best dancer in the forest. He can't stop dancing and shows off his moves wherever he goes. All is well in his world until Betty the bear arrives. She also excels at dancing and gains an audience of admirers, much to the chagrin of Magnus who looks more than a little jealous of the attention Betty is getting.
Magnus is not happy at the threat to his position and challenges Betty to a dance-off. The scenario which follows will be familiar to viewers of talent shows, with its panel of judges and their score cards. The two competitors give their all to their performances, but Magnus's over-enthusiastic spinning does not end well - and there can only be one winner...
A rather forlorn Magnus retreats to his tree house and seems to have lost the will to dance altogether. Even Betty's attempts to console him, and coax him into a dance, are to no avail. However, he is finally awoken and enticed to dance again by a wonderful midnight conga around the forest, which he simply cannot resist.
The book's vibrant illustrations are full of movement and colour, befitting a story about dancing in the forest. There are many animals to spot, both large and small, wearing a vivid array of costumes. The delightful final pages remind readers that there is much fun to be had doing things we enjoy, whether we are the best or not.
Picture book / Ages 3+ / Reviewed by Judith Greenall, librarian
Suggested Reading Age 3+
Other titles