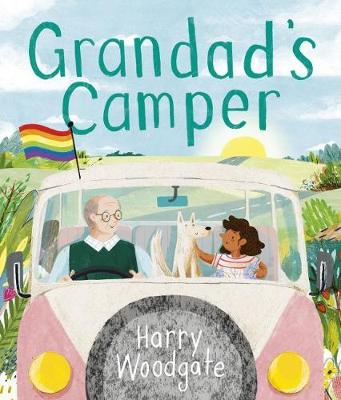 By Author / Illustrator
Harry Woodgate
Genre
Picture Books
Age range(s)
5+
Publisher
Andersen Press Ltd
ISBN
9781783449835
Format
Hardback
Published
06-05-2021
Synopsis
Celebrate love in all its forms, as Grandad tells his granddaughter about the adventures he used to have with Gramps. 'A colour-flooded riot of memory... a poignant sense of intergenerational love and grief made manageable makes this beautiful debut stand out' GUARDIAN'A glowingly colourful journey of remembered joy, managed grief and renewed delight in living'.  Grandad's camper van is hidden away in the garage - now Gramps isn't around any more, the adventures they shared travelling in it just wouldn't be the same. As she listens to his wonderful stories, Grandad's granddaughter has an idea to cheer him up...A perfect story for Grandad on Father's Day.
Reviews
Kyle
Grandad's Camper is a heartwarming tale of treasuring precious memories and celebrating life with those around you. The story is focused around a grandfather/granddaughter duo. It is summer and as usual, the young girl is staying with her beloved grandad. Her days are spent curiously rummaging through the shelves and shelves of knick-knacks that have been collected over the many years - most of which all come with a story from one of Grandad's adventures. Snuggled down together on the sofa, the evenings are spent with Grandad regaling his granddaughter with the places he visited and the people he met all around the world. From far away beaches to bustling cities, grandad had seen every wonder the world had to offer in his reliable old camper van....all with his beloved Gramps by his side. In the time since Gramps had left this world (which is inferred throughout the text), the camper, which had been part of all memories, had been left to collect dust behind the heavy garage doors. Fueled with the stories from her grandad, the girl has an idea. Working together, the pair restore the camper back to its best and begin to form their own memories with it....starting with a camping trip to the beach.
This text is a true reminder of the adventures we go on in life are much sweeter when we share them with those we love. It shows the importance of love through the generations and the strong bond between grandparent and grandchild. As a reader, you feel sucked into how close they are and this takes you back to your own grandparents' house and memories. All of this is down to the wonderful words and pictures created by Harry Woodgate. The text is pitched at the perfect tone for its audience and the pictures that sit alongside it are beautifully created. There is something soft about them that fills you with the warmth you get from reminiscing with loved ones.
This story touches upon on same sex relationships but this is never highlighted or focused on. Instead, the focus is on, and rightly, the love shared between two people. The feeling of love spills out of this book through the memories shared and the bond between all involved. A lovely text which should have a place in all primary libraries.
Picture book / Ages 4+ / Reviewed by Kyle Matravers, teacher
Suggested Reading Age 5+
Other titles