Granny Came Here on the Empire Windrush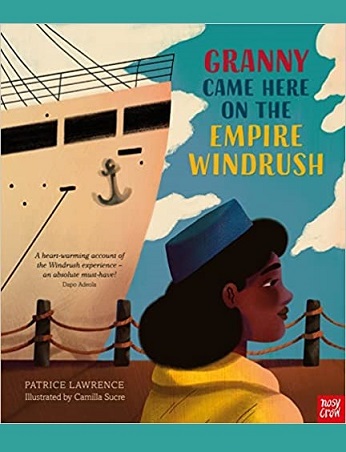 By Author / Illustrator
Patrice Lawrence, Camilla Sucre
Genre
Representation & Inclusion
Age range(s)
5+
Publisher
Nosy Crow Ltd
ISBN
9781839942310
Format
Paperback / softback
Published
05-05-2022
Synopsis
This heart-warming and heartfelt debut picture book from multi-award-winning author, Patrice Lawrence, will help ensure that the struggles and achievements of the Windrush generation are never forgotten.
One day, Ava is asked to dress as an inspirational figure for assembly at school, but who should she choose? Granny suggests famous familiar figures such as Winifred Atwell, Mary Seacole and Rosa Parks, and tells Ava all about their fascinating histories, but Ava's classmates have got there first - and she must choose someone else. But who?And then Ava finds a mysterious old suitcase - Granny's "grip" - and Granny begins to share her own history, and how she came to England on the Empire Windrush many years ago. She tells her story through the precious items that accompanied her on the original voyage, each one evoking a memory of home, and as Ava listens to how Granny built a life for herself in England, determined to stay against the odds and despite overwhelming homesickness, she realises that there is a hero very close to home that she wants to celebrate more than anyone - her very own brave and beloved granny.
"This book is a heart-warming intergenerational account of the Windrush experience, told with love and attention to detail by Patrice Lawrence and stunningly brought to life with Camilla Sucre's beautiful artwork. An absolute must-have for any collection." - Dapo Adeola   Every Nosy Crow paperback picture book comes with a free 'Stories Aloud' audio recording - just scan the QR code and listen along!
Reviews
Jemma
Granny Came Here on the Windrush Empire is such a wonderful starting point for further discussion about the challenges and achievements of the Windrush generation and the importance of the Black Lives Matter movement. It highlights several Black women who have helped shaped society for the better.
The beautiful, heart-warming tale follows Ava and her Grandmother as they search through a special trunk full of old clothes and treasures; Ava is trying to find something to wear to a school assembly where she has to dress as an inspirational figure. They find items that remind Granny of Winifred Atwell, Mary Seacole and Rosa Parks. For each item, Granny tells Ava a little about the importance of each woman associated with it. The reader learns how glamorous Atwell was when she played the piano, how caring Seacole must have been to help save soldiers lives and how brave Parks was to stay seated on the bus.
Although Ava admires all these women, there is one woman who is her hero; her very own beloved Granny. We hear how Granny, although terribly homesick, built a life for herself in England after leaving Trinidad on the Empire Windrush. And it is Granny who Ava chooses to dress up as.
The story is accessible to a young audience; my 5 year old daughter understood it perfectly and was inspired to look up photos of Trinidad after we read it. However, it is also relevant for older children and would be a great book for teachers to use in schools with their class as a starting point for a relevant topic.
The message glows throughout the story in a positive and inspiring way. Bold, beautiful illustrations capture the loving bond between grandmother and granddaughter as well as the contrasting landscapes of London and Trinidad. It is a joy to read and I would highly recommend this book.
Picture book / Reviewed by Jemma Jeffrey, teacher
Suggested Reading Age 5+
Sharon
'We have been studying why people migrate in our topic work and our teacher read us Granny Came Here on The Empire Windrush. It was so interesting to hear about Granny's trunk and its contents; such a clever way to bring other characters into the story. My favourite character is the last one. I had tears in my eyes at the end of the story because it made me think of my own gran who lives in Pakistan. I think I'll tell her about this story when I speak to her next.' A aged 10.
Patrice Lawrence has written a gem of a book which is full of strong female role models for our children including: Winfred Atwell, Mary Seacole and Rosa Parks. My children were shocked at the unjust treatment of the women in this story and it brought them to a sense of how much things have improved since Ava's granny's arrival. We also said there is still a way to go - people's attitudes are difficult to change.
While I read this with year 5, my year 2 colleagues have 'borrowed' it too. I'm hoping it will come back to me some time! Definitely a book to be used and enjoyed across the whole of the primary age range.
Picture book / Reviewed by Sharon Porter, teacher
Suggested Reading Age 5+
Other titles