Great Britons: 50 Amazing People Who Have Called Britain Home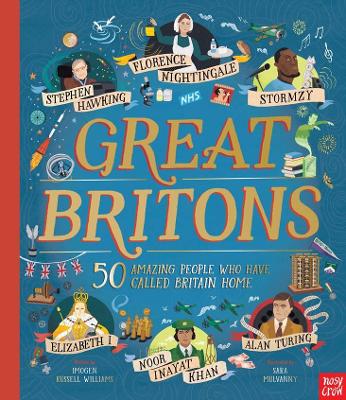 By Author / Illustrator
Imogen Russell Williams, Sara Mulvanny
Genre
Non Fiction
Age range(s)
9+
Publisher
Nosy Crow Ltd
ISBN
9781839940156
Format
Hardback
Published
07-10-2021
Synopsis
The inspiring stories of 50 key figures in Great Britain's history, who had an impact on the ways we live, think and feel today.  Throughout the centuries, the history of this small island nation has been shaped by the people who were born in Britain or arrived on its shores. From early Britons to modern pioneers, leaders, writers, athletes and activists, this country has contained a wealth of incredible talent, only made 'greater' by our history of immigration, integration and innovation.
This beautiful large-format gift hardback features stunning full-colour artwork throughout. Each page spread is devoted to a tale of an incredible Briton, told by talented writer and children's book critic Imogen Russell Williams and brought to life by Sara Mulvanny's vivid illustration. Discover the enthralling and diverse stories of 50 brilliant Britons through the ages, from the warrior queen Boudicca of early Britain, who rose in revolt against the Romans, to activist Malala Yousafzai, who fights for every girl's right to an education today. The gripping tales include key figures from all areas of British life - science, medicine, entertainment, sports, activism and more.
Featuring the inspirational lives and achievements of amazing people such as Florence Nightingale, Alan Turing, Mary Prince, Stormzy, Charles Darwin and Noor Inayat Khan, Great Britons is not only a celebration of our history as an island, but also as part of a far larger and greater world.
Video & Q&A with author Imogen Russell Williams
Reviews
Carol
This non-fiction book is packed with information about 50 Great Britons, who have been born in the UK or have made the UK their home. I particularly like the fact that it is so diverse and just right for children to learn about how these amazing people. Their stories share how people can overcome prejudice, war, slavery, bullying and disabilities. Also, stories of fighting for equal opportunities and womens' rights and amazing innovation.
The list of 50 includes Alfred The Great, Isambard Kingdom Brunel, Mary Seacole, Alan Turing, Ad's Lovelace and Noor Inayat Khan. An inspirational hardback book for Upper KS 2 children, ages 10+.
112 pages / Ages 10+ / Reviewed by Carol Wright, school librarian
Suggested Reading Age 9+
Jane
The line-up of famous and non-so-famous in Great Britons: 50 Amazing People Who Have Called Britain Home is fascinating; people from different periods, men and women, different nationalities, ethnicities and faith backgrounds, juxtaposed so that the reader never gets bored, even though the format is much the same on every page.
The style of the pictures is right on trend as is the overall design, with its large format pages, extensive index, useful glossary, instructive timeline, explanatory introduction and concise contents list. No matter, then, that some of the contemporary figures we're used to seeing in photos or on screen are not quite true to life.
This is a book to dip into, although some older primary aged children will want to read it from cover to cover. It is certainly one to revisit again and again. It would make a great resource for assemblies and displays, as well as for topic work relating to various historical periods, e.g. the Industrial Revolution, and to aspects of Science and Technology.
112 pages / Reviewed by Jane Rew, school librarian
Suggested Reading Age 7+
Other titles