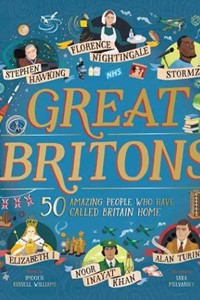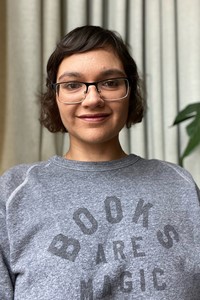 About Author
Imogen Russell Williams is a writer, editor, children's literature critic and author, and her latest book for children, Great Britons: 50 Amazing People Who Have Called Britain Home (Nosy Crow Books) is now available. She is also the author of The Big Book of the UK(Ladybird). Her work appears in the Guardian, the TLS, the Metro and Books For Keeps, among many others. 
Interview
Great Britons: 50 Amazing People Who Have Called Britain Home (Nosy Crow Books)
November 2021
Great Britons: 50 Amazing People Who Have Called Britain Home celebrates 50 people who were born in Britain or made it their home, and who helped change the world for the better. It is the latest in the Inspiring Lives series from Nosy Crow Books (see also Herstory and Youthquake)
Within the collection are writers, scientists, artists, sports people, musicians and campaigners, many of whom overcame great odds to make significant changes or endeavours. In this video, author Imogen Russell Williams tells us more about the book and shares a section from it, followed by a Q&A which tells us how the book was created.
Read an extract from Great Britons
Reviews of Great Britons:  "This is a book to dip into, although some older primary aged children will want to read it from cover to cover. It is certainly one to revisit again and again."
Q&A with Imogen Russell Williams
1.  How did you start writing non fiction for children, and what kinds of subjects do you like to write about?
I always enjoyed reading non-fiction as a child, and I've written lots of reviews of non-fiction books, but I fell into writing it when a friend of mine asked me if I would like to write a children's book about the UK. So far, I've written non-fiction about Britain, Britons…and, er, slime!

2.  What are your top tips for writing great non fiction?
When I was young, I liked funny facts, the wow! kind of unexpected trivia, and sometimes things which were a bit disgusting or rude. My top tip is to make sure you don't have too much solid information, or pages that look very pretty but are really better suited to adult readers than children, and to make sure you have funny or unexpected snippets in there - to me, they make a book both more fun to read and easier to remember.

3.  Can you tell us a little about your new book, Great Britons, and why you wanted to write it?
Great Britons is a collection of biographies, the latest in the series that started with Herstory and Youthquake, and Nosy Crow asked me to write it to celebrate some of the different but amazing people who've added great things to the world from this little island.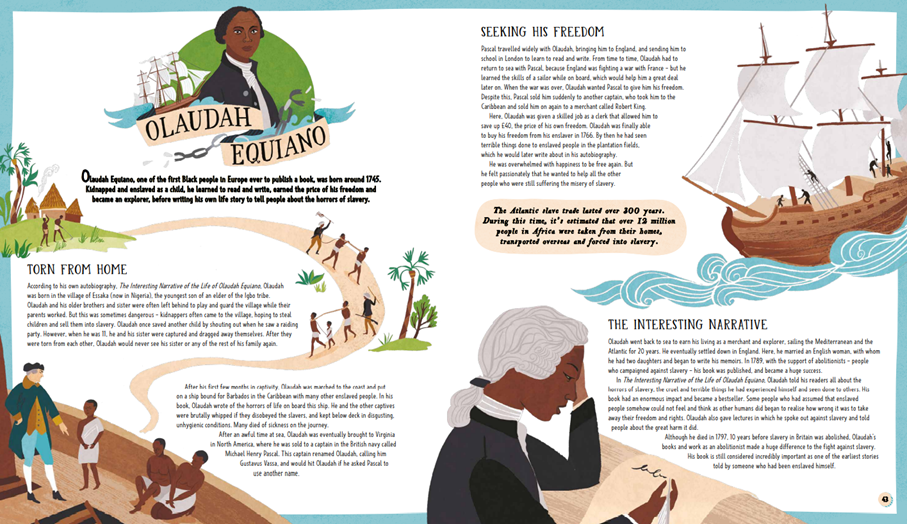 4.  How hard was it to choose the 50 people you wanted to include, and why did you choose these people - what were your criteria?
I chose the 50 Great Britons for the book with my editor and publisher, and we had a lot of discussion about who should make the cut! We wanted a selection of people who'd been great in different ways - so that everyone who read the book might find someone who felt inspiring to them in particular.

5.  Who was at the top of your list? Who did you have to leave out?
If we'd been doing 100 Great Britons or more, I would have liked to have more visual artists, dancers and performers in there. I was sad we didn't have space for Margot Fonteyn! I'd have liked to have Edward Enninful, the editor of Vogue, in there as well - and Marcus Rashford for his campaigning against child poverty.

6.  There are some less familiar names, too, in this collection - who might children not recognise, and why did you want them included?
Part of what we hoped to get across in the book is the different faces greatness wears, and the way our idea of what greatness is changes with time. If you have a collection that's just names children already know or are likely to have come across, I think it creates the idea of a 'canonical' kind of greatness that's set in stone, and is harder to aspire to.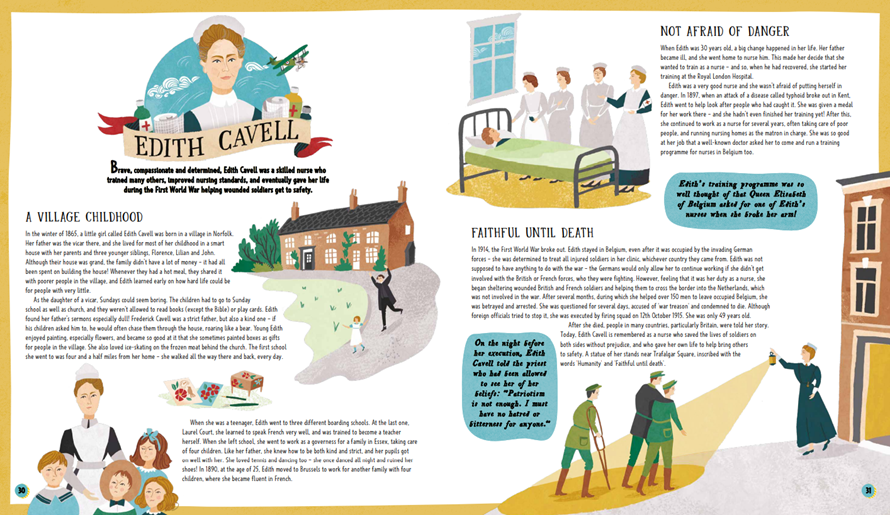 7.  What spread of achievements did you want to cover? For example, you include writers, who might not usually be acknowledged as of historical importance.
Oh, I don't know, writers are pretty important! Especially children's writers, who can shape the feelings and experience of young people in a lifelong way. All our lives are shaped by so many kinds of achievement - medical, scientific, artistic, political, sporting, conservationist - that it felt important to try and celebrate as broad a spread of them as possible.

8.  Was it also important to include people from lots of different backgrounds, including those who weren't born in Britain?
Definitely. With its colonial history, Britain has ties to so many places, and has invited people to come here from different countries to work - also, historically, it's given refuge to people fleeing persecution, offered a welcome to artists and musicians, nurtured sporting talent from all round the globe…The diversity of our experience is a huge part of what makes Britain great!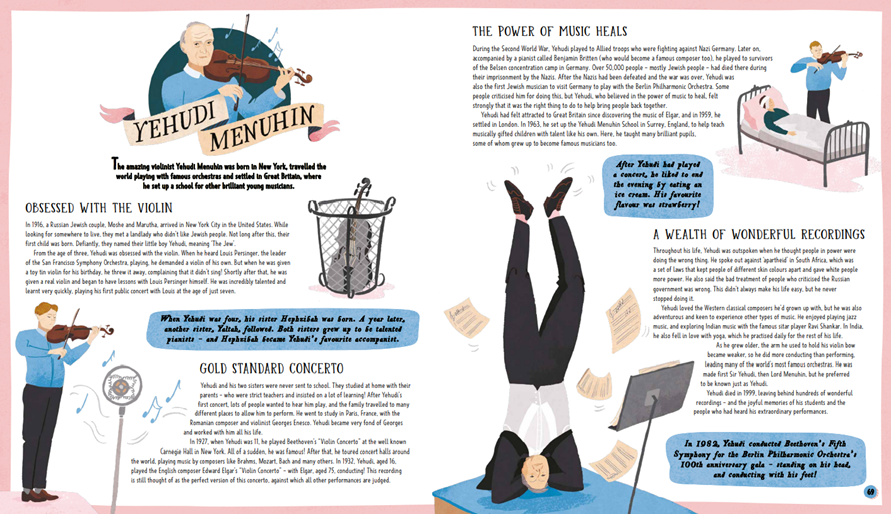 9.  How did you go about researching each of the people in the book? Did you find out things you hadn't realised about any of your heroes?
I read a lot of biographies, and a lot of interviews for the Britons who are still with us - and I definitely found out unexpected snippets about each of them! Things like Stormzy reading all the books he could lay his hands on to win reading scheme badges when he was a boy, or Yehudi Menuhin rewarding himself after concerts with strawberry ice-cream. My research reminded me that even the most superhuman of Great Britons are still very much just people, too.

10.  What kind of information did you want to cover in each spread?
I wanted some funny or unusual facts that stood out, alongside the particular high points of each hero's life or career. I also wanted information about each of the heroes as a child (harder to find out with people like Boudicca, about whom we know so little anyway!), and to mention times when they struggled or were disheartened. It was important to me to show them all as fully human, as well as talented and special.

11.  How long did it take to write the book? What was it like to see the finished version, with illustrations by Sara Mulvanny? Do any spreads stand out for you?
Haha, I can't remember…I think about nine months, during 2020 - a pandemic baby! That made it even more exciting to see the finished book, because writing in isolation and talking about it over Zoom can make it feel as though it's never actually going to be real. I was so thrilled when I saw the blue cover with the gold foiling on it, though! I think my favourite spread is William Blake, with the orange flashes, the tiger, and the visiting angels.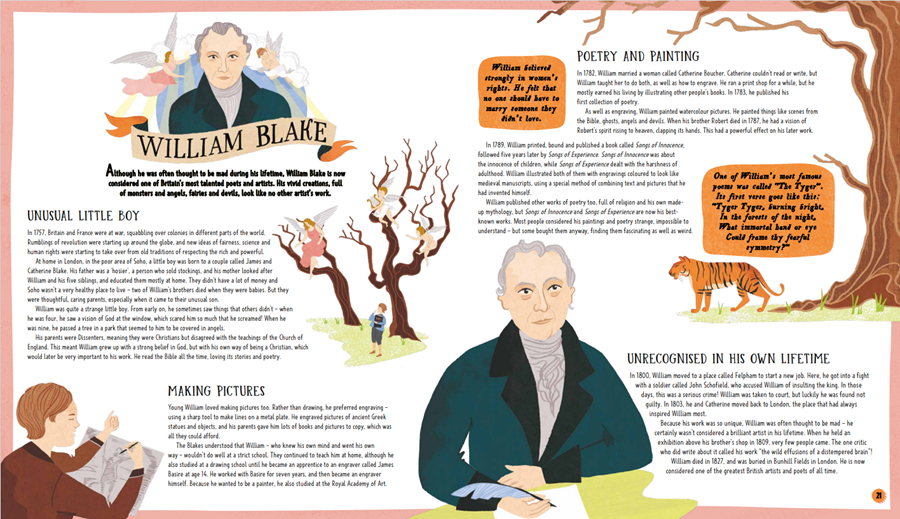 12.  How would you like to see the book being used and shared?
I hope it's the sort of book you can sink into, perhaps revisiting a favourite Great Briton or two who resonates particularly with the individual reader. I'd also like it to be the kind of book teachers could share to discuss things like "What makes someone great?"; "Can someone still be great if they hold hurtful beliefs?"; "What might our idea of greatness look like in the future?"

13.  What are you writing currently? Where and when do you write?
At the moment I'm writing more grown-up stuff - some folk horror stories and a collection of poetry based on the Welsh legends of the Mabinogi. I write wherever and whenever - I use my phone for quick skeletons and then flesh them out on my computer.

14.  What do you enjoy doing when you're not at your desk?
As well as walking the dog, I have two main hobbies - sewing little felt rabbits and circus whip-cracking! Both of them are actually rooted in children's books I read when I was very small, but one is a lot noisier than the other…
Author's Titles