Great Elizabethans: HM Queen Elizabeth II and 25 Amazing Britons from Her Reign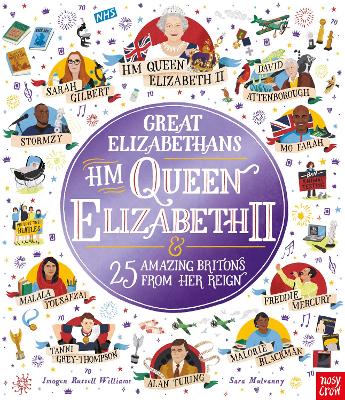 By Author / Illustrator
Imogen Russell Williams, Sara Mulvanny
Genre
Biographies & Autobiographies
Age range(s)
9+
Publisher
Nosy Crow Ltd
ISBN
9781839946394
Format
Paperback / softback
Published
05-05-2022
Synopsis
Celebrating the Queen's Platinum Jubilee, the incredible history of HM Queen Elizabeth II's 70-year reign, told through the enthralling life stories of 25 amazing people who have called Britain home.
The reign of HM Queen Elizabeth II has been long and eventful. Over the past 70 years, Great Britain has seen incredible changes in the ways we live, think and feel, shaped by the inspiring people who were born in Britain or arrived on its shores. As we approach the Platinum Jubilee in June 2022, learn about the Queen's life and 25 other amazing history-makers - from modern pioneers, leaders and scientists to writers, athletes and activists - in this beautifully illustrated special edition paperback. Each page spread is devoted to a tale of an incredible Briton, told by talented writer and children's book critic Imogen Russell Williams and brought to life by Sara Mulvanny's vivid colour illustration. The book also features a gloriously illustrated timeline, showing key events from Queen Elizabeth's long reign.
Discover the life-changing events of the last 70 years, from the foundation of the NHS by Aneurin Bevan to the creation of the AstraZeneca COVID-19 vaccine by Sarah Gilbert. Learn about how amazing activists like Paul Stephenson and Malala Yousafzai fought hard for equal rights for all, and scientists like Stephen Hawking and Tim Berners-Lee made incredible advances that allowed us to know more about the universe, or communicate in a whole new way via the Internet. The diverse tales include key figures from all areas of British life - science, medicine, entertainment, sports, activism and more.
Featuring the inspirational lives and achievements of amazing people such as Alan Turing, Malorie Blackman, Stormzy and Tanni Grey-Thompson, Great Elizabethans is not only a glorious celebration of Queen Elizabeth's reign, but also the citizens who have contributed to such an incredible 70 years.
Author Imogen Russell Williams introduces Great Elizabethans
Reviews
Beverley
This lovely and informative non-fiction book introduces the reader to Her Majesty Queen Elizabeth II and 25 other famous peoples who have come to prominence over the remarkable 70 years of her reign. The book includes a wide range of people, from Aneurin Bevan and the foundation of the NHS, then we are brought bang up to date with Sarah Gilbert and the discovery of the AstraZeneca COVID-19 vaccine, taking in Stormzy and Malala Yousafzai along the way.
The information is presented in easily accessible sections, and is broken up further by Sarah Mulvanny's lively colour illustrations. Whether reading from cover to cover, or just dipping in, there is plenty to hold the interest of the reader. I particularly liked the inclusion of the little 'fact bubbles', which give a fascinating insight into the lives of these inspirational people. Who knew that Winston Churchill's poodle, Rufus, once sneaked into a government meeting, or that Alan Turing cycled 63 miles in order to get to school on time when the trains weren't running?
The people included in the book are from a wide range of backgrounds and cultures and we are shown what a huge influence each has had on the history of Great Britain – and how many amazing things Queen Elizabeth has witnessed while on the throne.
Great Elizabethans: HM Queen Elizabeth II and 25 Amazing Britons from Her Reign will be a valuable and popular addition to any school library. Highly recommended.
64 pages / Reviewed by Beverley Somerset, school librarian
Suggested Reading Age 7+
Other titles