Greek Myths: Meet the heroes, gods, and monsters of ancient Greece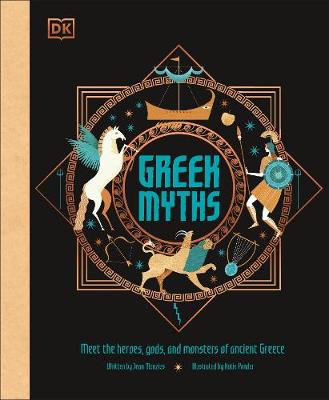 By Author / Illustrator
DK, Jean Menzies
Genre
Myths & Legends
Age range(s)
7+
Publisher
Dorling Kindersley Ltd
ISBN
9780241397459
Format
Hardback
Published
16-07-2020
Synopsis
Written by Jean Menzies, winner of the Books Are My Bag Breakthrough Author Award 2020. Journey into a world of gods and goddesses, heroes and heroines, extraordinary creatures and fantastic monsters with this beautifully illustrated introduction to ancient Greek mythology. Perfect for children aged 7 to 9, this collection contains more than 30 enthralling new retellings of favourite myths as well as some you might not have heard before.

Including Theseus and the Minotaur, The Twelve Labours of Herakles, and the escapades of Jason and the Argonauts, each myth is told in engaging modern language, which is easy for children to understand yet still retains the humour and intrigue of the original tales. Stunning illustrations by multi-award winning artist Katie Ponder breathe new life into each classic story.
Reviews
Sue
Greek Myths: Meet the Heroes, Gods and Monsters of ancient Greece offers an excellent introduction to the world of Greek Myths. Starting with explaining the importance of the gods to the ancient Greeks, the book then sets the scene of that world before a section entitled The Beginning clearly explains how the Greek gods came to be from the creation story to the war with the Titans. The next section focuses on the Olympian gods. Here, stories of the gods are interspersed with pages focusing on specific gods and goddesses. All the well-known names are here - Zeus, Hera, Hades, Poseidon, etc, but one of the many joys of this volume is that it introduces children to many others which they might not have heard of - Hestia, Hephaestus, Artemis, etc. The role of each and their relationship to other gods / goddesses is clearly explained.
The stories are told in an accessible and engaging manner, perfect for younger children or those unfamiliar with the stories. 'Odysseus's Voyage', for example, is supported by an illustrated timeline summary of his journey from Troy to Ithaca whilst only sections of the tale are told in full. Each is beautifully illustrated by Katie Ponder in a style reminiscent of the pictures on Greek vases. Alongside the familiar stories of Jason, Theseus and Daedalus are those which are less known such as Atlanta and the Amazons.
The final section, 'About the Myths', offers lots of additional details such as a pronunciation guide, how the gods were worshiped and how many things have been named after gods and creatures from the Greek myths. The importance of storytelling, the variety of vases the Greeks used and mythical beings and beasts are also explored. Greek Myths is an absolute must have for anyone interested in these fascinating stories as well as being a valuable resource for any teacher. Attractive, engaging and fascinating, this is a book to treasure!
160 pages / Reviewed by Sue Wilsher, teacher
Suggested Reading Age 7+
Other titles