Grimwood: Laugh your head off with the funniest new series of the year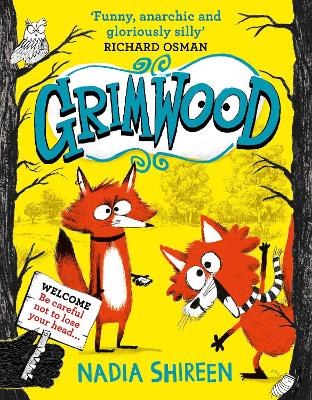 By Author / Illustrator
Nadia Shireen
Genre
Funny Stories
Age range(s)
7+
Publisher
Simon & Schuster Ltd
ISBN
9781471199301
Format
Hardback
Published
02-09-2021
Synopsis
Laugh your head off with this fully-illustrated new series from award-winning Nadia Shireen. Perfect for readers age 7 to 107, fans of Dog Man, Roald Dahl, Mr Gum and David Walliams, and anyone who loves to laugh.

Fox cub siblings Ted and Nancy are on the run from Princess Buttons, the scariest street cat in the Big City. They flee for Grimwood, expecting to find refuge in the peaceful countryside. Instead, they are met with thieving eagles, dramatic ducks, riotous rabbits and a whole host of unusual characters. Grimwood is . . . weird. But when Princess Buttons tracks them down, Nancy and Ted and the animals of Grimwood must unite in a mind-bending race against time . . .

This memorable, distinctive and warm-hearted comedy series will have kids begging to read more.


Reviews
Catherine
Grimwood is probably best for those who are Year 2 and 3, although younger children would enjoy it being read to them. It is described as 'anarchic, original, gloriously silly and savagely funny.' I would agree with all those statements...if you are a young child. Children will enjoy the different characters. Princess Buttons the evil cat was my favourite.
The story begins with the two main characters Ted and Nancy the foxes who like to visit the bins outside Speedy Chicken. The animals in the city share the food and have one bin each but Princess Buttons takes over Speedy Chicken and is evil to everyone. Ted bites her tail off which makes her very angry and as a result Ted and Nancy go on the run to escape from Princess Buttons.
I like the layout of the book. Children will enjoy the pictures and the different fonts. However, I really did not like the story. It didn't grip me at all. I found myself bored and couldn't wait to finish the book. The humour side is definitely aimed at children but I have to be honest, this is not a book that I would be enthusiastic about and I wouldn't want to read it to my class.
256 pages / Reviewed by Catherine Kus
Suggested Reading Age 7+
Other titles