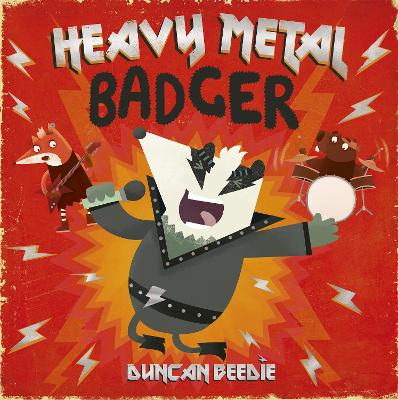 By Author / Illustrator
Duncan Beedie
Genre
Personal Growth
Age range(s)
5+
Publisher
Little Tiger Press Group
ISBN
9781801045056
Format
Hardback
Published
12-10-2023
Synopsis
An empowering rock anthem, from the fantastically-funny Duncan Beedie, celebrating identity and self-expression.
Badger is ready to ROCK!
The music inside him is ready to burst out.
He just needs to find a band.
But recorder class isn't right. Neither's the choir. Nor the marching band!
Will Badger ever find his musical tribe? Perhaps it's been there all along . . .
Children will love the laugh-out-loud chaos that Badger causes on his quest for a musical home. Packed with tons of rock-themed references, puns and visual jokes, this is THE picture book for budding rock music lovers. Perfect for fans of Dogs Don't Do Ballet by Anna Kemp and Sara Ogilvie, Zog by Julia Donaldson and Axel Scheffler, and The Lion Inside by Rachel Bright and Jim Field.
Reviews
Jemma
A book which celebrates individual identity and self-expression, the story of Heavy Metal Badger has a lovely, warm moral within the lively, colouful illustrations and wonderfully fun rhymes.
Our main character, Badger, loves music and wants to find the perfect place to rock out with the perfect band. However, he soon finds out a choir isn't for him, nor is a marching band. He has music in his heart that needs to burst out and he is ready to rock! It is in the rock genre that he finds his musical tribe.
This story feels energetic and fast-paced, with the glorious pictures reflecting the loud music Badger plays. I read this to my class at school, who giggled throughout and asked to explore the book themselves afterwards. Inspired and highly engaged, some of the children created their own rock band, with costumes and instruments! There are even some little nods to famous rock bands for the adults to spot, with band name parodies like Dachshund Pumpkins and Ant-Thrax, as well as a Queen lyric. These made me smile and were a joy to find within the story.
My class and I would recommend Heavy Metal Badger for an up-beat, fun and active story time session (perhaps not for a calm bedtime story!).
Picture book / Reviewed by Jemma Jeffrey, teacher
Suggested Reading Age 5+
Other titles