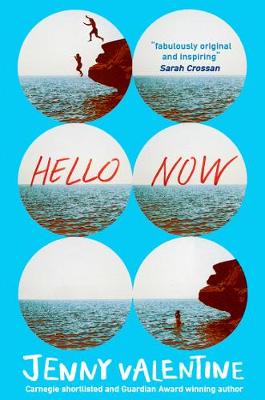 By Author / Illustrator
Jenny Valentine
Genre
Romance & Relationships
Age range(s)
14+
Publisher
HarperCollins Publishers
ISBN
9780007466498
Format
Paperback / softback
Published
02-04-2020
Synopsis
A beautifully moving, exquisite and utterly original love story from Carnegie-shortlisted author Jenny Valentine - for 12+ girls, boys, and everything in between. 
This is more than one story, more than one Now. But I'll tell it as best I can.  Me? I'm Jude - like the Patron Saint of lost causes.  Him? He's Novo. Like nothing on earth. Literally.   In the beginning, before Novo showed up, my mum and me moved to the seaside. Then the first of July, 11.34am. Novo arrived. I was like an atom in his orbit. Alone with him, feeling the pull. Suddenly in the moment, in the Now.  Then a terrible, unthinkable Now. One that could tear my family apart. But Nows can be undone, rewritten, changed. Goodbye to life as I know it.  And Hello Now...
From Guardian-prize-winning author Jenny Valentine, this is a stunningly written exploration of what it means to live and love in the moment that quite literally transcends logic and time.
Reviews
Beverley
Jude and Mum have moved house for the 13th time and now live by the sea. The house they have bought comes with a sitting tenant, Henry Lake, an odd and reclusive old man who occupies the middle floor of their new house. Jude, who did not want to move in the first place, is angry at having to share their new home with a stranger. Henry is very odd and Jude feels isolated in this quiet new town. Then the handsome Novo turns up in the house across the street and Jude's life is transformed.
Novo is amazing - he is full of magic and mystery. He seems to be able to transcend time and introduces Jude to the possibility of there being different forms of 'Now', different realities and incredible experiences, and a love which Jude had never imagined could exist. Novo offers Jude the chance to share 'ten lifetimes of adventure on the head of a pin', and Jude agrees. Jude and Novo share a brief and intense love affair, and Novo takes Jude away to experience a time of adventure and romance. They are inhabiting a completely different world.
However, in Jude's 'real' world, time has carried on as normal. Jude's mother is frantic with worry because Jude has gone missing. Jude finds out that Henry Lake is the same as Novo but Henry cannot leave the house now, because he gave up the ability to travel between times in order to stay with the woman he loves. Jude realises that Novo, too, will be similarly trapped if he and Jude stay together. Jude loves Novo too much to do this to him, and so makes the painful decision to part from him. Novo showed Jude 'a world of endless possibilities', but Jude realises that this kind of life would be impossible.
Hello Now is a story of finding and losing love, and of discovering what is worth sacrificing for it. The book is beautifully written - Jude and Novo's relationship is described in a series of dreamlike passages - children hovering in the air above Novo, a house emptying itself of its contents - and although the events seem impossible, the author writes in such a way as to make the reader accept that these things are happening. Some parts of the story are almost like reading poetry. The book is also ambiguous - we know that Novo is male, but we are never actually told of Jude's gender, but we are never in doubt of the love between the two.
This is not an easy read, but I feel that this is an important book, and one that will appeal to both boys and girls. I also feel sure that each reader will take something different from the story, and I would have no hesitation in recommending it to Young Adult readers.
192 pages / Ages 14+ / Reviewed by Beverley Somerset, school librarian
Suggested Reading Age 11+
Other titles