Her Radiant Curse: An enchanting fantasy, set in the same world as New York Times bestselling Six Crimson Cranes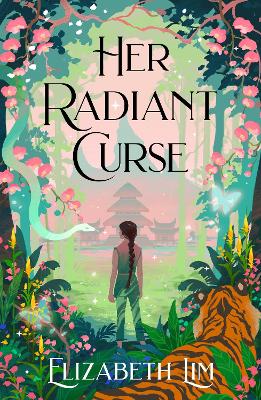 By Author / Illustrator
Elizabeth Lim
Genre
Fantasy
Age range(s)
14+
Publisher
Hodder & Stoughton
ISBN
9781399714778
Format
Hardback
Published
29-08-2023
Synopsis
One must fall for the other to rise....   Sisterhood bonds and courage are tested in the new tale from the New York Times bestselling author of Six Crimson Cranes and The Dragon's Promise.

Channi was not born a monster. But when her own father offers her in sacrifice to the Demon Witch, she is forever changed. Cursed with a serpent's face, Channi is the exact opposite of her beautiful sister, Vanna, the only person in the village who looks at Channi and doesn't see a monster. The only person she loves and trusts.

Now 17, Vanna is to be married off in a vulgar contest that will enrich the coffers of the village leaders. Only Channi, who's had to rely on her strength and cunning all these years, can defend her sister against the cruellest of the suitors. But in doing so, she becomes the target of his wrath - launching a grisly battle royale, a quest over land and sea, a romance between sworn enemies, and a choice that will strain Channi's heart to its breaking point.

Elizabeth Lim is at the absolute top of her game in this thrilling yet heart-wrenching tale of courage, loyalty and the deep bonds of sisterhood.  'Glows from start to finish . . . a marvel' CHLOE GONG.  'Elizabeth Lim's worlds and words are always magical' XIRAN JAY ZHAO

PRAISE FOR ELIZABETH LIM:  'Every page of Elizabeth Lim's masterful writing shimmers with beauty and emotion' ALEXANDRA BRACKEN.  'Dazzling' STEPHANIE GARBER.  'Magic leaps from every page' AXIE OH.  'Amazing' TAMORA PIERCE.
Reviews
Linda
Her Radiant Curse is the prequel story to the wonderful fantasy tale, Six Crimson Cranes. However, it can easily be read as a stand alone as it's a complete story within itself, but will encourage you to read the next book as it contains so much drama, magic and mystery...
In order to save her mother's life, Channi was offered as a sacrifice to the Demon Witch by her father when she was a small child. However, the Demon Witch didn't want Channi - she wanted the child that had just been born, The golden one. Needless to say, her mother died but Channi's life also changed forever, as the Witch marked her face and turned her into a monster that even her father couldn't look at her without disgust. That day in the jungle also gave Channi a new power, one that she learned to use and would become her salvation when her sister, Vanna turned 17. This power was given to her by the Serpent King, making her affectionately known by the serpents as Lady Green Snake. How does she use this power? How will it give her an advantage over the greedy men that are queuing up in a vulgar contest to take her sister away?
Her Radiant Curse blew me away with its breathtaking descriptions of the fantasy world that the author has created and her wonderfully crafted characters. As a reader, you become fully invested in the sister bond and the courage of a young girl, Channi, as she uses her cunning and strength to protect the only person she loves and trusts. I also really enjoyed the banter between Channi and her special companion, Ukar, a beautiful snake and a exiled Dragon Prince, Hokzur. These characters brought depth, friendship, romance and heartbreak into the story.
This breathtaking story has scenes of cruelty and abuse within its pages. However, it does lend itself to discussions around beliefs, superstitions and the concept of what makes a monster and how we perceive beauty. Read it and enjoy it so much that, like me, you want to continue into this author's world and see how these characters progress.
432 pages / Reviewed by Linda Brown, school librarian
Suggested Reading Age 14+
Other titles