Here be Dragons: The Snowdonia Chronicles: Book One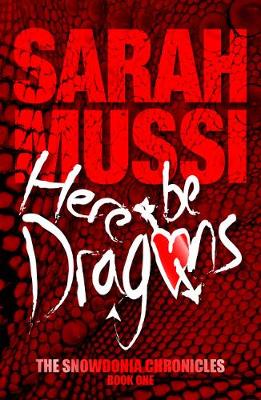 By Author / Illustrator
Sarah Mussi
Genre
Fantasy
Age range(s)
11+
Publisher
Vertebrate Publishing Ltd
ISBN
9781910240342
Format
Paperback / softback
Published
01-09-2015
Synopsis
Ellie Morgan wants a boy who's all hers. Just for once, it would be nice to meet someone that Sheila (the cow) hadn't got her claws in to.   A remote farmhouse on Mount Snowdon is hardly the ideal setting for meeting anyone unless, of course, you count her best friend George or creepy Darren (which Ellie doesn't). But when a boy, glimpsed through the mist and snow, lures her up to the Devil's Bridge, Ellie realises the place she knows so well still has its secrets ...  The stronger her feelings for this strange boy become, the more she is in danger: a battle as old as Snowdon itself has been raging for centuries and now Ellie's caught in the middle.
Something has left its lair. It's out there stalking her.  Who ever said true love was easy?
Reviews
Karen
Ellie Morgan lives with her mother in a remote farmhouse on Mount Snowdon. We meet Ellie on Christmas Day with Snowdon in the grip of a severe snowstorm. There is no power and Ellie and her Mum are called out by the Mountain Rescue team to help rescue a girl who has gone missing on the mountain. While searching for the girl, Ellie spots a mysterious boy high above her on a ridge, shrouded in mist and snow. He is handsome and fascinating and, disregarding the danger and terrible conditions, Ellie sets out to find him. So begins a story of love and ancient legend.
Ellie falls in love with Henry, the mysterious boy on the mountain and, along with her loyal friend, George, she becomes embroiled in a battle that has been raging for centuries. Warring dragons, ancient feuds and deep magic from the mountain mean that they are in real danger, as the story builds to an exciting final battle.
Here Be Dragons is a love story and a fantasy but it is firmly rooted in the reality of everyday life for a modern teenage girl. Ellie tells the story in the first person and her account is interspersed with the text messages sent between her group of friends. As well as ancient Welsh legend and dragons, she is concerned with what to wear and the girl who wants to steal her boyfriend!
It is a fast-paced read and includes some lovely descriptions of Snowdon as the weather changes. This should appeal to readers of 12+ who enjoy fantasy but may well also draw in readers who prefer a contemporary 'real life' teenage love story. I will eagerly await the next book in the Snowdonia Chronicles!
409 pages / Ages 12+ / Reviewed by Karen Poolton, college librarian.
Suggested Reading Age 11+
Other titles