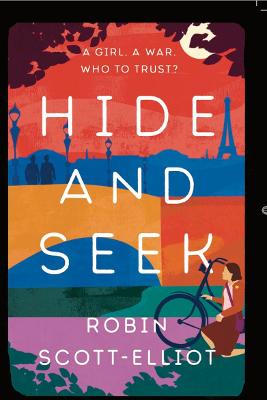 By Author / Illustrator
Robin Scott-Elliot
Genre
Historical Fiction
Age range(s)
11+
Publisher
Everything with Words
ISBN
9781911427247
Format
Paperback / softback
Published
12-08-2021
Synopsis
Thrilling new page turner by Robin Scott-Elliot author of The Tzar's Curious Runaways and The Acrobats of Agra. Paris, 1942. When Amelie Dreyfus hides in her mother's wardrobe it's a game; when she comes out it's a matter of life or death. With her family taken, Amelie has to fend for herself in Nazi-occupied France - she's no choice but to resist.
In the Resistance life hangs by a thread. Betrayed, Amelie is forced to flee to Britain. But Paris is home and she returns to face one final, desperate mission.
Q&A and Video by author Robin Scott-Elliot
Reviews
Jacqueline
It is Paris, 1942. Amelie Dreyfus is hiding in a cupboard playing hide and seek with her family. There is the sound of heavy boots and German soldiers come and take Amelie's parents and brother away. The family are Jewish, and Amelie finds herself alone, having to fend for herself and stay alive in an occupied city.  Amelie ends up joining the Resistance to fight the enemy who would kill her just for being Jewish. Travelling to England and then back to France to carry on the fight, Amelie must use every bit of courage, even though she is scarcely more than a child.  Whilst not a true story, Amelie's adventures are based on real wartime experiences of child members of the Resistance and Jews in occupied Europe.
Having loved Robin Scott-Elliot's previous books, I was looking forward to reading this one. I was not disappointed - this is historical fiction that vividly brings to life the terrors and hardships of Nazi occupation of France. Amelie is a feisty heroine, and her bravery and determination are inspiring.
Robin Scott -Elliot was inspired by real events and people, several of whom are actually in this story. He was also moved to write the story by the photo of a child, Eva Redischova, murdered at Auschwitz; the ordinariness of the photo overshadowed by her fate. It is this combination of real and imagined that weaves the story together, creating tension and fear at the situation Amelie finds herself in.
This book would work very well for Upper Key Stage 2 - particularly if they are studying WW2. Whilst it touches on the Holocaust, it is not horrific and so would be suitable for this age. It is, simply, an excellent adventure story with a historical background that brings it to life, and honours those who were in the Resistance at that time.
304 pages / Ages 10+ / Reviewed by Jacqueline Harris, teacher
Suggested Reading Age 9+
Other titles