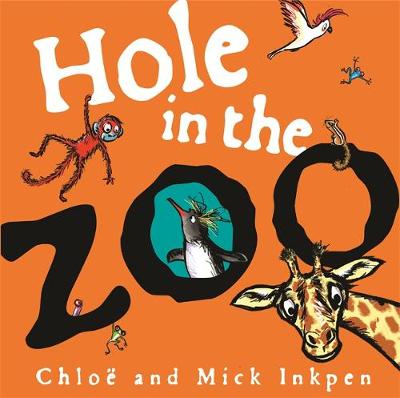 By Author / Illustrator
Mick Inkpen, Chloe Inkpen
Genre
Adventure
Age range(s)
3+
Publisher
Hachette Children's Group
ISBN
9781444931716
Format
Paperback / softback
Published
28-06-2018
Synopsis
From the bestselling team behind Kipper, I Will Love You Anyway and Fred, an energetic rhyming adventure jam-packed with mischievous animals swinging, splashing and crashing through the pages.

At Upalongdownalong Avenue
in the garden at Number 2,
there's a hole in the wall
that belongs to the Zoo
and things have started coming through...
Praise for Mick Inkpen:
'You simply cannot fail to win smiles with a new book about Kipper.' Daily Mail
'The charmingly comical Inkpen, as always, hits the spot.' Guardian
Praise for Zoe and Beans:
'These books will become well-loved members of any child's book collection.' Carousel
For activities, competitions and other fun stuff check out www.chloeinkpen.com
Mick Inkpen has been a bestselling children's author for over 25 years. He is one of today's most popular picture book author/illustrators and the famous creator of both Kipper and Wibbly Pig. Mick has won the Children's Book Award for Threadbear and the British Book Award twice, for Penguin Small and Lullabyhullaballoo. Kipper won a BAFTA for Best Animated Film. It wasn't until Mick became a father that he began his career in children's books. Now father and daughter have come together for a unique and exciting picture book partnership. Chloe Inkpen grew up surrounded by picture books and has a natural gift for storytelling. A love of language and art saw her swap an English degree course at Nottingham University for a degree in Illustration at the Glasgow School of Art. In her final year Chloe was awarded second place in the Macmillan Prize for Illustration. Chloe's events in schools, libraries and festivals across the UK regularly receive glowing reviews. Mick and Chloe are the co-creators of Hole in the Zoo, the Fred series and the Zoe and Beans series.
Reviews
Lauren
'In the garden at number 2 there's a hole in wall that belongs to the zoo.' Everyday, a series of cheeky, curious animals make their way through the hole to see what they can find. It's up to Ellie, Boo and her brother to look after all these animals! Until a man from the zoo arrives and tells all the animals off and they are sent back through the hole. Poor Ellie, Boo and her brother wait and wait but nothing comes through. Ellie and Boo creep threw the hole one night and retrieve all the animals from the zoo! This is a very sweet story from the creators of Kipper and Wibbly Pig. It is a great story to teach children the days of the week and to help them with counting, there's a lot of animals to count! It is a lovely brother, sister bond book and great for all animal lovers! The images are very sweet and a little cheeky (look out for the tortoise!). I am very much looking forward to seeing if there is going to be a sequel or similar stories coming soon! Picture book / Ages 3+ / Reviewed by Lauren Maidman, teacher.
Suggested Reading Age 3+
Other titles