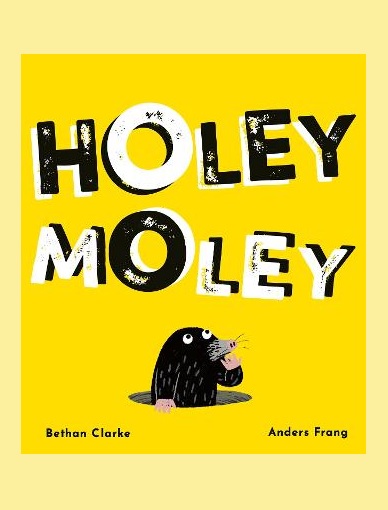 By Author / Illustrator
Bethan Clarke, Anders Frang
Genre
Funny Stories
Age range(s)
3+
Publisher
Little Tiger Press Group
ISBN
9781801044134
Format
Hardback
Published
11-05-2023
Synopsis
An anarchic, hilarious story by exciting debut author Bethan Clarke, illustrated with deadpan humour by rising star Anders Frang.
Gus the Goat loves guessing. And he loves rhyming. So, when he meets Mavis Mole, he can't help himself trying to guess where she lives. Is it in a hole? In a bowl!? In a Sausage ROLL!! No, not quite . . .
This super-silly and totally HOLE-ARIOUS story will have kids laughing out loud and joining in with Gus Goat's outlandish guessing game. Perfect for inspiring a love of language in little ones. Fans of The Day The Crayons Quit by Drew Daywalt and Oliver Jeffers, the Supertato series by Paul Linnet and Sue Hendra, and anything Dr Seuss, will adore Holey Moley!
Reviews
Amanda
This HOLE-ARIOUS story will have children laughing from the very beginning. Will they identify with Gus the Goat, who loves guessing and rhyming, or Mole who gradually gets more fed up as the story progresses?
In Holey Moley, when Gus meets Mavis Mole he can't help himself trying to guess where she lives. Is it in a hole? In a bowl!? In a Sausage ROLL!! No, not quite . . . Children will love joining in with Gus Goat's rhyming, guessing game. I wonder if they will rise to the challenge of thinking of other places that mole could live - but of course they would have to rhyme!
This humorous story will aid the development of a love of language and story telling linked to the animal world; is there anything better? In the classroom it could be used to develop rhyming skills, discuss speech and the use of speech bubbles as well as ways of adding humour. The illustrations are pitched perfectly, the expressions on the characters faces add immensely to the narrative. You can spend a huge amount of time spotting additional animals in the illustrations and discussing what they are doing and how they are feeling.
An amazing book to share with children at any time of day, this is a wonderful debut story.
Picture book / Reviewed by Amanda Shipton, teacher
Suggested Reading Age 3+
Maria
Be prepared to giggle, laugh out loud and support Mavis Mole in Holey Moley by Bethan Clarke and Anders Frang. In Holey Moley we meet Gus and Mavis. Gus the goat is convinced that Mavis must live in a hole... and be a holey moley! Gus continues to suggest places that Mavis must live in as she says 'no' to each of his suggestions.
Gus's rhyming suggestions are hilarious and the illustrations are so funny and clever. Mavis the Mole manages to keep calm and eventually shows Gus where she actually lives and it is... Well you are going to have to read this book and find out!
This book was shared with a Year 2 class (ages 6+) who joined in readily with the rhyming text and giggled and laughed - and thoroughly enjoyed Holey Moley!
Picture book / Reviewed by Maria, teacher
Suggested Reading Age 5+
Other titles