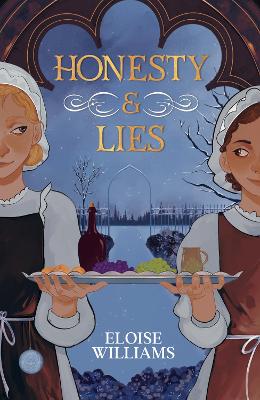 By Author / Illustrator
Eloise Williams
Genre
Historical Fiction
Age range(s)
9+
Publisher
Firefly Press Ltd
ISBN
9781913102999
Format
Paperback / softback
Published
06-10-2022
Synopsis
London, 1601. Honesty, a storyteller seeking fame and fortune, befriends Alice, a maid to Queen Elizabeth I. But can Alice be trusted? A tale of intrigue, scheming and plots set in the spellbinding world of the Elizabethan court. A thrilling adventure where nothing is as it seems.
Reviews
Jane
I have no hesitancy in giving this book a 5 star rating. The author is adept at using language in keeping with Elizabethan times, when London hummed to the sights, smells and sounds of human life in all its gruesome, gorgeous reality.
Honesty and Lies, told alternately by Alice and Honesty, follows the fortunes and misfortunes of these two girls who can never, it seems, escape grinding poverty or the grip of the men who have dominated their early years and blighted their futures. Who wouldn't want to escape into a world of royalty; a world peopled by bejewelled ladies-in-waiting and awash with conspicuous consumption and frivolity?
This is the world of Queen Elizabeth, her entourage and her favoured guests. It is not a world in which maids at the royal palace are invited to partake. However, Honesty's storytelling wins her popularity and, when the opportunity comes, she is quick to take it, leaving Alice to do the dirty work, literally. No wonder jealousy, followed by suspicion, anger, mistrust and deception dog the girls' friendship. When close, they confide in each other; when torn by conflicting thoughts and emotions, they unravel. For Alice the stakes are too high - she must strike out alone, playing her part in a plot that, if it succeeds, will summon the end of her time at court and the end of the Elizabethan era.
Gripping stuff. Great for readers aged 8+, it would also make an excellent class read, especially when studying the Tudors.
288 pages / Reviewed by Jane Rew, school librarian
Suggested Reading Age 9+
Other titles