Hooray for Hoppy: A First Book of Senses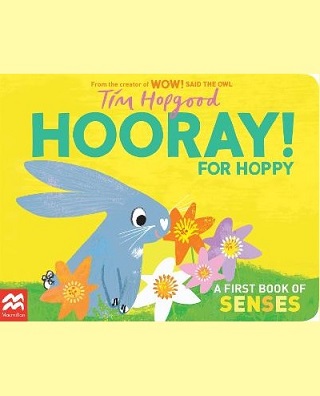 By Author / Illustrator
Tim Hopgood
Genre
Early Skills
Publisher
Pan Macmillan
ISBN
9781529098976
Format
Board book
Published
16-02-2023
Synopsis
Hooray for Hoppy! is a bold and beautiful introduction to the senses by Tim Hopgood, creator of the bestselling WOW! Said the Owl.

When Hoppy the rabbit wakes up on the first day of spring, he discovers a world full of wonderful things! But after he's sniffed the fresh air, listened to the singing birds and tasted the green grass, he starts to feel a little lonely. Will he find a way to wake up his friends so they can enjoy the sights, smells and sounds of spring too?

Little ones will love joining in with the HOORAYs in this board book, and a final activity spread about how to use your senses makes this book the perfect present for preschoolers. 
Discover more from Tim Hopgood, the Booktrust award-winning illustrator of WOW! Said The Owl, a first book of colours, and TIP TAP Went The Crab, a first book of counting.
Reviews
Jessica
Hooray! For Hoppy is a really interesting take on a children's sensory book. It gives us insight into the sounds, sights, smells and feelings of Spring through its illustrations and words without the addition of textures on each page - making the words key to this book for very young children.
Hoppy (a very fitting name for the adorable little bunny) wakes up each morning waiting for Spring to have sprung… when finally one morning it has! With a twitch of his nose and a breath of the fresh air, Hoppy springs out from his burrow and down the hill to hear the birds singing and see the pink blossom on the trees. Hoppy used his senses throughout the book to confirm that 'Spring had definitely and most wonderfully sprung!' The final page talks us through the five senses and explains which body part activates each sense.
This page also encourages retrieval practice as it asks us what Hoppy heard, smelt, saw, tasted and felt in this book. Hooray! For Hoppy is the newest book in Tim Hopgood's series of board books which have different focusses to enhance vocabulary. For example; there is also Whoosh! Walter's Wonderful Web!, which introduces children to the language of shape, and Tip Tap! Went The Crab, which is a first counting book. For the full sensory experience, scan the QR code to listen to the free audiobook.
Board book / Reviewed by Jessica Bunney, teacher
Suggested Reading Age 0+
Other titles