Horror Heights: The Slime (Book 1)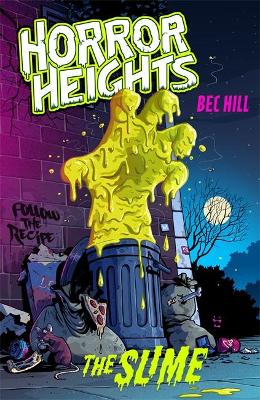 By Author / Illustrator
Bec Hill
Genre
Horror
Age range(s)
9+
Publisher
Hachette Children's Group
ISBN
9781444962291
Format
Paperback / softback
Published
30-09-2021
Synopsis
Welcome to Horror Heights: can the children who live here conceal the strange goings on behind closed doors? GOOSEBUMPS for a new generation, by award-winning comedian and CITV presenter, Bec Hill.

Connie hasn't found her talent yet, but at least she has her slime collection - if it's gooey, she's got it! She hopes that by adding a few extra ingredients to a simple recipe she will uncover a talent for slime-making, but alas, all she uncovers is a hot, stinky mess which ends up in the bin. It's shaping up to be another uneventful weekend ... until her failed slime experiment wakes her up the next morning. It's alive! And can talk! And is named... Big. 
Big adores Connie and wants to protect her from everything at all times, which is very sweet. At first. But when it gets bigger, grows teeth and threatens to eat her friends and father, can Connie uncover her TRUE talents in order to protect everything from THE SLIME?

The first in a creeptastic new series for readers aged 8 and up - are you brave enough to discover the scares behind every door at Horror Heights?
Reviews
Samantha
In Horror Heights: The Slime, 11 year old Connie has yet to find her niche at Secondary School, and while some children are known for their academic or sporting ability, just like many young girls, Connie still feels unrecognised by her peers! Connie is so keen to be known, that she settles with being known as 'Connie, Queen of Slime', after being caught by one of the teachers, on more than one occasion, with slime in her pocket. Eventually the name, rather like the slime, sticks and in order to retain her title, Connie has to make sure that she always has a pot of slime with her. However, when her Dad has an accident and can't get to the supermarket, Connie has to be creative and make her own.
Starting with a basic recipe for slime, Connie decides to add a few extra ingredients, although sadly what results is a stinky mess which ends up in the bin. Connie goes to bed knowing that she may well now lose her title and reputation; however, when she wakes up the following morning and finds herself staring into the eyes of a yellowy-brown blob with a gummy grin, she soon realises that keeping her title is not her only problem. As Connie's slime evolves, growing bigger and bigger with teeth and a taste for pizza crusts, amongst other things, Connie has to turn to her friends for help, but how can she get them to help her if they don't believe that the slime she has made is alive? It's up to Connie and her friends to save Horror Heights from the terrifying, sentient creature that is now threatening to eat her friends and family.
Horror Heights is the new, 'revolting' series from award-winning children's entertainer, television writer and stand up comedian Bec Hill, due to be published this September 2021. Understandably described as Goosebumps for a new generation, this series of books (book 2 is due Spring 2022), will undoubtedly entertain any young reader who enjoys slimy fun and unsettling creepiness. I am sure this series of books will be a popular choice for even some of the most reluctant readers in every classroom or library.
192 pages / Reviewed by Samantha Phillips, teacher
Suggested Reading Age 9+
Other titles