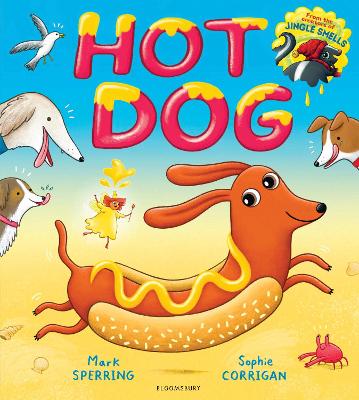 By Author / Illustrator
Mark Sperring, Sophie Corrigan
Genre
Picture Books
Age range(s)
3+
Publisher
Bloomsbury Publishing PLC
ISBN
9781408876114
Format
Paperback / softback
Published
09-06-2022
Synopsis
From the creators of Mince Spies, Santa Jaws and Jingle Smells comes another hilarious romp that's guaranteed to make you laugh this summer! This is the story of a little hot dog who longs for just one thing: to be a REAL dog. But when the Mustard Fairy makes his dreams come true, will he be accepted by the other dogs? Or will he have to fight for his place in the sun? Packed with beaches, sunshine, ice cream and seaside silliness galore, this is THE picture book of the summer!
Reviews
Kyle
Hot Dog longs to be a real dog, so he can fetch a stick and catch a ball and run around like all the other dogs he sees on the beach. This all appears to be just a pipe dream for this poor little sausage... that is until the Mustard Fairy comes along! Mark Sperring has teamed up with the superb illustrator Sophie Corrigan to create this wonderfully odd, yet fun, tale of never giving up on what you wish for. From a story telling or reading aloud perspective, this book is a delight. The rhyming flow of the text is very simple to follow and is a great hook to keeping children's engagement levels high.
My class of Y1 children were absolutely engrossed in the story and many were even able to join in with the rhyming words as they picked up the natural patter of the book. During my lessons, we often talk about connections we make with other texts and stories and for my class, they made comparisons to Cinderella in the way that a fairy godmother (of sorts) came to the rescue of someone with a wish.
The illustrations by Sophie Corrigan perfectly compliment the story style and are vibrant, colourful and appealing. My class have gone back repeatedly to read this story themselves and discover more funny elements of the pictures drawn. Overall, I think this is a great addition to any EYFS/Y1 book library. It may not create many opportunities to make links to the curriculum but as a book for enjoyment, it is perfect.
Picture Book / Reviewed by Kyle Matravers, teacher
Suggested Reading Age 3+
Wendy
If you like a bit of surrealism in your picture books then this is the one for you! Hot Dog tells the story of an actual hotdog sausage, sitting on a beach hot dog stand and watching all the real dogs have fun. He makes a wish that he could join in and who should happen to hear him but the Mustard fairy, of course. She turns him into an odd hot dog/real dog hybrid who then goes off to frolic with his new doggy friends.
Alas, we all know how much real dogs like sausages - so what sort of life can poor Hot Dog expect to live now?  It all ends happily with the creation of a candy floss poodle and a new home with Flo.
This is an odd story that some children will absolutely love because it is so strange and some will absolutely hate for the same reason! The illustrations are cartoony and appealing and the text is written in verse which makes it easy to read at bedtime. Certainly a book that will divide opinion, though!
Picture Book / Reviewed by Wendy, teacher
Suggested Reading Age 5+
Other titles