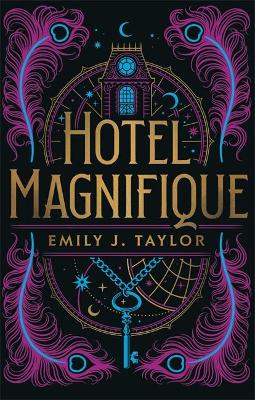 By Author / Illustrator
Emily J. Taylor
Genre
Fantasy
Age range(s)
14+
Publisher
Pushkin Children's Books
ISBN
9781782693475
Format
Hardback
Published
05-05-2022
Synopsis
The legendary Hotel Magnifique is like no other: a magical world of golden ceilings, enchanting soirees and fountains flowing with champagne. It changes location every night, stopping in each place only once a decade. When the Magnifique comes to her hometown, seventeen-year-old Jani hatches a plan to secure jobs there for herself and her younger sister, longing to escape their dreary life.Luck is on their side, and with a stroke of luminous ink on paper the sisters are swept into a life of adventure and opulence. But Jani soon begins to notice sinister spots in the hotel's decadent facade. Who is the shadowy maitre who runs the hotel? And can the girls discover the true price paid by those who reside there - before it's too late?
Reviews
Linda
If you loved the Caraval series you are going to really enjoy this debut novel, Hotel Magnifique....
Jani and her younger sister Zosa live a hard life in Durc so when the legendary Hotel with all its magic advertises that it's coming to the port, just for one night, they take the chance to apply to work there. However, things don't go according to plan; one gets accepted, the other rejected, but after a quick discussion and a lot of haggling with a handsome stranger, Bel, from the hotel, they both enter its doors and their lives begin to change. Will it be for the better or will they regret this decision?    Without giving too much away, one of the sisters find out that she has magical powers, but this doesn't help; it only deepens the danger they are in. Will the maître of the hotel destroy the sisters, or will they find a way to destroy him?
Hotel Magnifique is full of magic, mystery, a dash of romance and adventure. There are some sinister moments but nothing in too much depth, making the story totally suitable for the 12+ reader. The spellbinding pages are full of twists and turns as the plot thickens, making it engaging and exciting; it's simply a great debut novel that would be suitable for book clubs and intervention groups as it has so many discussion points.  It's a shame it's a stand-alone (well, I think it is) as I'm sure the characters the author has developed within the story would have lots of other magical adventures to give YA readers to enjoy.
400 pages / Reviewed by Linda, school librarian
Suggested Reading Age 11+
Other titles