How Harry Riddles Totally Went Wild (Shoutykid, Book 4)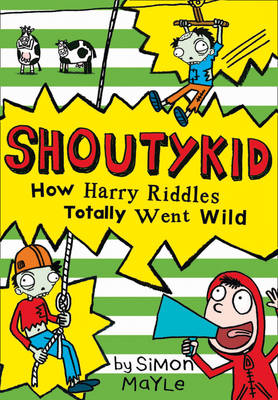 By Author / Illustrator
Simon Mayle
Genre
Adventure
Age range(s)
7+
Publisher
HarperCollins Publishers
ISBN
9780008158880
Format
Paperback / softback
Published
02-06-2016
Synopsis
The funniest kid in fiction aka SHOUTYKID is back and has more to shout about than ever!
When he's packed off on a school trip to 'Adventure Camp' for half term Harry is less than thrilled. He'd planned to spend his holiday shooting zombies, not kayaking, abseiling and perfecting his archery skills! Even worse than all the outdoor activities, Harry's been put in a dorm with his arch-nemesis Ed Bigstock!!! And if Ed finds out Harry's deepest secret - that he's afraid of the dark - he'll have a whole lot more to deal with...
Follow Harry's hilarious ups and downs told through laugh-out-loud letters, emails, texts and more!
Reviews
Ann
Unlike any book I've read, it's in the form of letters, emails and texts. Unmistakably, this is a book for lovers of modern comedy stories. In this story, Harry Riddles is forced to go to an activity camp. Friends and enemies combined, he dodges (only sometimes successfully) traps, tricks and scrapes. I would definitely recommend this book to boys above 7 years old. It is visually engaging and would encourage even the most reluctant reader to pick up a book! 270 pages/ ages 7+ / Reviewed by Ann Maria Sony, student, and Jane Cattell, teacher.
Suggested Reading Age 7+
Alison
This book falls into the Diary of a Wimpy Kid / Timmy Failure type of category. I personally don't like Wimpy Kid as I find him too annoying and whiny. I also find the books very amoral. However I am aware that they are staggeringly popular with the pupils who borrow from our school library and wondered if this one as better. I was pleased to discover a funny and more rounded character lead role and an author covering interesting and pertinent ideas in a fun and easy to access way, in particular, facing fears and patching up friendships. I could see this book being a useful tool in a PHSE lesson in dealing with fear. The lead character tries lots of ways to get out of his situation but only by dealing with it, is he able to move forwards. I think the book would be another good one to appeal to reluctant readers. They are so short that sometimes when kids get into them, they chew through a whole series and it's nice to have a few alternatives up your sleeve to offer. My 10 year old read it in a matter of one day and enjoyed it. I know that others in the series have been a hit at school. I particularly liked his emails for help to Ian McKenna! A funny book and worth a read. 272 pages / Ages 8+ / Reviewed by Alison Urquhart.
Suggested Reading Age 7+
Other titles