How I Became a Dog Called Midnight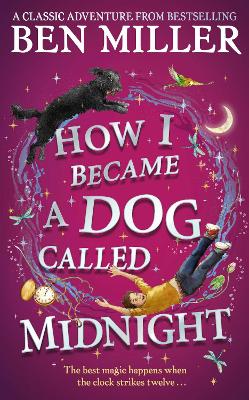 By Author / Illustrator
Ben Miller
Genre
Magical Realism
Age range(s)
7+
Publisher
Simon & Schuster Ltd
ISBN
9781471192487
Format
Hardback
Published
30-09-2021
Synopsis
A boy, a dog, and a magical body-swap adventure! Enter a world of wonder this Christmas in the brand-new classic adventure from top-ten bestselling children's author, Ben Miller.

George has always wondered what it's like to be a dog. One night, a magical mix-up with an enchanted fountain means he swaps places with Midnight, a huge and loveable hound! Becoming a dog is an amazing adventure, until George uncovers a plan that could threaten Midnight's home. Can the two friends save the day before the clock strikes twelve and leaves them stuck in each other's bodies forever?

A magical race-against-time for a boy and his dog best friend - discover the funny and heartwarming classic storytelling from bestselling author and beloved actor, Ben Miller.


Reviews
Emma
How I Became a Dog called Midnight is a heart-warming story and is perfect for a whole class shared read. George lives in a cottage in the grounds of a large home with his Dad who is the groundskeeper. The home is owned by Lady Jane and her daughter Koko who happens to be George's best friend.
Lady Jane and Koko return from their holiday with a surprise - Lady Jane's new husband, Clive. Although Clive is not what he seems, he has an obsession with fishing in the lake; his aim is to catch the huge carp - Gogmagog - which has been swimming in the waters for many years. He is also obsessed with the fountain in front of the house and its mysterious magical powers, which can swap the bodies of two people on Midsummer's night.
The story is fast paced, entertaining and at times emotional. It would be perfect as a whole class read as there are themes of loss, friendship and perseverance running throughout the story. However, it would also be a nice individual read for children aged 7+; the language is uncomplicated and is very descriptive, meaning it would also be a good text to use in an English lesson.
I really enjoyed reading about the tales of Midnight and George and there is a really nice twist to the end of the story which may surprise younger readers.
320 pages / Reviewed by Emma Nelson, teacher
Suggested Reading Age 7+
Other titles