How I Saved the World in a Week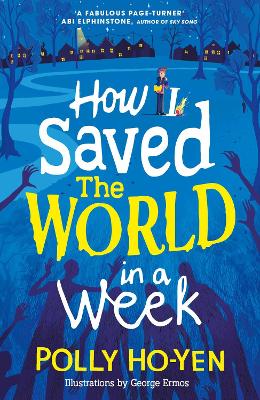 By Author / Illustrator
Polly Ho-Yen
Genre
Adventure
Age range(s)
9+
Publisher
Simon & Schuster Ltd
ISBN
9781471193545
Format
Paperback / softback
Published
08-07-2021
Synopsis
A brilliantly imagined new 8+ adventure about resilience, family and hope. From the bestselling and Waterstones Children's Book Prize shortlisted author of BOY IN THE TOWER. Perfect for fans of Ross Welford, Lisa Thompson and Onjali Rauf.

Rule number one: Always be prepared . . .

Billy's mum isn't like other mums. All she wants is to teach him the Rules of Survival - how to make fire, build shelter and find food. She likes to test Billy on the rules until one day she goes too far, and Billy is sent to live with a dad he barely knows.  Then the world changes forever as people begin to be infected with a mysterious virus that turns their skin grey. As chaos breaks out, Billy has to flee the city. Suddenly he realises that this is what his mum was preparing him for - not just to save his family, but to save the whole world.

'A fabulous page-turner' - Abi Elphinstone, author of Sky Song; 'A compelling and timely survivalist journey' - Sita Brahmachari, author of Where the River Runs Gold.
Reviews
Jan
How I Saved the World in a Week kept me engrossed. The chapter headings give clues to the next part of the story without giving anything away, and I liked that some were only a page whilst others were several pages long. This uneven pace of chapter length draws the reader into the world of Billy and his unpredictable mother, Sylvia.
As the story of his life unfolds, the reader is drawn into the chaos and confusion. Ho-Yen is adept at creating tensions within characters' relationships that strains inside the plot. She tackles the issue of disintegrating mental health in the first part of the novel with a sensitive hand. Initially, Billy's life as fun yet intense. However, this develops into a disturbing claustrophobic life for him, which finally spirals out of control.
Everything that Billy experiences in the first part of the book, from the survival skills, rules and mysterious Martello tower becomes relevant in the second part. The tension builds as Billy, Anwar and Angharad realise that there is a frightening virus affecting people, but their parents won't believe them. Ho-Yen maintains the suspense as the story descends into a dystopian future, with the final section of the book broken down by day, as Billy sets off to find his mother.
There are cliffhanger moments and an exciting climax as Billy pieces together the evidence and formulates a theory. I would recommend this book to those readers who enjoy a tense thriller with brave and resilient characters. You may learn some useful survival skills along the way!
384 pages / Reviewed by Jan Blagden
Suggested Reading Age 11+
Louisa
According Billy's mum, the rules of survival matter more than anything Billy can learn in class - so he's more often then on 'adventures' with her than in school. Billy adores his mum, although she's different from everyone else's, but after she lights a fire in their living room, he is sent to live with his father in Bristol. Missing his mum, he keeps practising his survival skills but he is surprised to find himself making friends. Until his world is inverted again. A deadly virus that turns people into zombie-like creatures causes pandemonium and soon Billy's on the run from Bristol with his new family. It's a gruelling journey that tests Billy's survival skills to the utmost - and keeps the reader gasping for breath through a series of cliffhangers (plenty of potential models for class writing).
As the story gathered pace, I found it more and more difficult to put down (and stayed up far too late one night to check that Billy would pull through). It will appeal to children who like their books nail-biting, with a touch of the gruesome thrown in. Besides the suspense, it explores themes of family and friendship as an integral part of the story as Billy wrestles with the implications of the third rule: 'Trust No one'. This would make a brilliant starting point for discussion in a class or school book club. I'd really recommend it for the school library and as a class read in upper primary or early secondary.
384 pages / Ages 9-12 years / Reviewed by Louisa Farrow, teacher
Suggested Reading Age 9+
Other titles