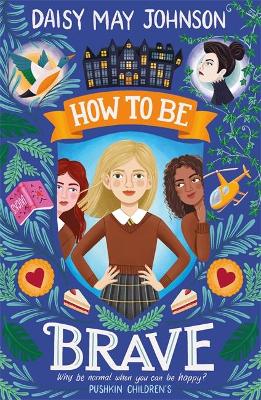 By Author / Illustrator
Daisy May Johnson
Genre
Friends and family
Age range(s)
7+
Publisher
Pushkin Children's Books
ISBN
9781782693253
Format
Paperback / softback
Published
01-07-2021
Synopsis
Calla's mum has never been normal. She's been known to go out in a lab coat and slippers and often forgets to perform basic tasks because she's been thinking about ducks. When a job offer arrives to study her beloved birds in the Amazon rainforest, Calla knows her mum has to go. Nervously, she agrees to go to boarding school. However, she quickly learns that trouble is afoot in this odd convent school. A mean new headmistress is imposing horrible rules and making everyone eat Brussels sprout cake, and the students are itching to revolt. As Calla makes new friends and gets drawn into their rebellious plot, she keeps waiting for her mum to call. She will, won't she?
Exuberantly funny and brimming with heart, How to Be Brave is a riotous celebration of the power of resourceful girls, stories and the right biscuit at the right time.  See Book 2: How to be True
Reviews
Jo
How to be Brave is a really quirky story of independence, determination and resourcefulness. And there are ducks and cakes! This story of action, adventure, love and loyalty is as rich and as spicy as gingerbread.
Calla lives with her duck-obsessed mum and they have a lifestyle that might be considered by some as unconventional. The love between Calla and her mother beats throughout the story and their positivity in the face of adversity is inspiring.  When Calla's mum receives an opportunity of a lifetime - to venture into the unchartered habitat of her favourite species of duck- Calla is sent to the School of the Good Sisters a boarding school like no other.
The Good Sisters at the boarding school are under the watchful eye of a new and formidable headmistress who wants to lose traditions and to rid the school of any fun. She is as dry and as stale as long forgotten rich tea biscuit. As is her nature, Calla tries to put on a brave face and to make the most of her lot. She makes new friends, uncovers secrets but ultimately, misses her mum. When she realises that Mum hasn't phoned her from the Amazon, Calla begins to fret and it is at this point that the pace of the story quickens as we are taken on an adventure unlike any other!
Calla and her friends begin to unravel secrets from the past and to discover connections in unlikely places. Clues to her mother's past and her present situation add to the intrigue as we race against time to locate Calla's mum and to rid the school of tyrannous Headmistress De Witt. The 'Good Sisters' are exactly that: good. Children will thrill at the notion of teachers rebelling against the school rules and there is almost a St Trinian's feel to the anarchic actions as students and teachers unite against the DeWitt's authority. The secret library that operates along secret passageways to smuggle books at dawn is a delightfully ironic touch.
Friendship is a dominant theme and Calla's friends are as true to her as she is true to herself. Friendship also appears in a different guise as we find that old friendships never fade; Good Sister Christine was the best friend of Calla's mum when they were both boarders together and her love and protection extends to Calla. This adds a reassuring warmth and comfort to the tale. Headmistress DeWitt gets her come-uppance in the most satisfying concluding scenes of the whole adventure as the power of good over evil prevails. Readers will be forgiven for whooping out loud when the rein of terror is overthrown.
This will appeal to readers who enjoy mystery, action, school stories and cake! An unusual feature (and one that I personally did not particularly enjoy) was the addition of authorial footnotes. These are included to supplement the main story by adding additional details and asides. For me, I felt that they interrupted the story's flow and often chose to ignore them. However, some readers may find them amusing.
304 pages / Reviewed by Jo Clarke, teacher
Suggested Reading Age 7+
Other titles