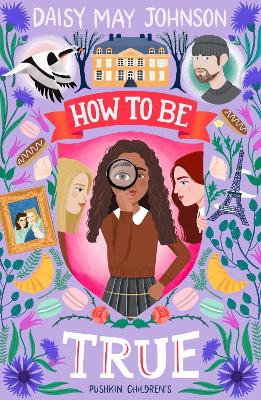 By Author / Illustrator
Daisy May Johnson
Genre
Mystery & Detective
Age range(s)
9+
Publisher
Pushkin Children's Books
ISBN
9781782693277
Format
Paperback / softback
Published
07-07-2022
Synopsis
Edie was born to a family of troublemakers. When her activist parents leave Paris to protest around the globe, her grandmother decides it's time she became a proper young lady and so sends her to the School of the Good Sisters.  But to Edie's surprise, the nuns at the school teach genuinely useful things, like how to build a perfect library, cater for midnight feasts and make poison darts, and mischievous Edie feels right at home. When a school trip to Paris is planned, she worries about returning to the strict order of her grandmother's chateau - but things are not as she left them. Soon Edie and her rebellious friends are caught up in a mystery involving a precious painting, secrets from her grandmother's past and a very persistent burglar...
See also: How to be Brave (Book 1)
Reviews
Jo
How To Be True is the second adventure set amongst the School of the Good Sisters and it reunites the reader with familiar characters, Edie, Hanna and Calla. Just like its predecessor, How to Be Brave, it is narrated by Good Sister June, a nun and a lover of all things cake and a fan of footnotes! This time however, our focus is on Edie; her seemingly curmudgeonly grandmother and a very important painting.
Edie has been brought up with a strong moral compass, to right wrongs and to defend all that she holds dear. When she finds herself rejected by her Parisian grandmother and dispatched to the School of Good Sisters, Edie is lonely and displaced. Not for long though! Soon she learns to love the school, its community and its curriculum based on the learning of 'useful things'. Edie is right at home with the nuns and her fellow, rather rebellious students; she even teaches classes on barricade construction! When a field trip to Paris is organised, Edie is shocked to discover that the school party will be residing at her grandmother's chateau. Whilst keen to show her friends around her beloved home city, Edie is reluctant to be reunited with Odette, the grandmother who rejected her, preferring the company of her vast art collection to that of her granddaughter.  Once in Paris, an action-packed, hilarious adventure begins as Edie, the penguin-like nuns and a band of lower school students attempt to foil a determined thief.
Wartime espionage and resistance is the backdrop to a beautiful, mesmerising, tale of courage and true love. The story of Odette, her past and her loves is told with tenderness and sensitivity. It is truthful and it is brave. It is beautiful and it is proud. Whilst this could easily be called a 'romp', it is so much more. This is a tale about the value of the truth - being true to others and being true to oneself. It is about true friendship and true love. How to be True teaches us the importance of standing up for what we believe in, to never be ashamed of who we are or who we love. The final chapters will have you reaching for your tissues and very much in need of a comforting slice of Victoria sponge! Truly wonderful!
352 pages / Reviewed by Jo Clarke, teacher
Suggested Reading Age 7+
Other titles