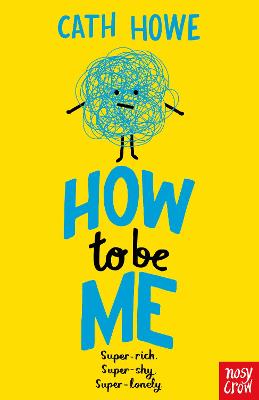 By Author / Illustrator
Cath Howe
Genre
Friends and family
Age range(s)
9+
Publisher
Nosy Crow Ltd
ISBN
9781788005975
Format
Paperback / softback
Published
01-04-2021
Synopsis
A beautiful, moving story of family, friendship and self-discovery. Super rich. Super shy. Super lonely. Lucas is all alone. Since his mum died, Lucas and his dad don't seem to understand each other at all - it's almost as if they're speaking different languages. With a long, hot summer facing him, Lucas is dreading the drama club that his dad has signed him up for - he doesn't know how to be around new people and he can't stand performing. But the people Lucas meets at the club force him to open up and start talking, and when disaster strikes, Lucas is forced to step in and help. Can his new-found friends teach Lucas how to be himself?
Filled with empathy and insight, and sensitively touching on issues including grief, anxiety and loneliness with great understanding and an incredible lightness of touch, How to be Me is a kind, heartwarming, and uplifting story, from the author of the highly-acclaimed novels Ella on the Outside and Not My Fault - perfect for fans of Jacqueline Wilson and Lisa Thompson.
Reviews
Nicola
How to be Me is a beautiful book. Cath Howe has perfectly captured just how important the creative arts are can be. Whether that be in finding self-confidence, making friends, or dealing with trauma.
Lucas is feeling very alone. After the death of his mother, his father is spending all his time at work or with his new fiancé. Lucas hasn't clicked with his new au pair, and to top it off, he is being forced to spend the summer holidays at a drama club his dad has signed him up for. As much as he resists at first, drama club and new friend Keely are the catalyst for Lucas to find his self-confidence. He is able to open up about the death of his mother and build relationships with au pair Irena and soon to be step mother Vanessa. When torrential rain brings the rood of the drama hut the drama hut crashing down during a rehearsal, Lucas uses his new-found voice to save his friends, and then goes on to save the show.
How to be Me is a great book to open up a discussion about grief with 8–12-year-olds, showing that adults struggle just as much as children, and being able to open up and talk is the key to healing.
272 pages / Ages 8+ / Reviewed by Nicola Jenkin, school librarian
Suggested Reading Age 9+
Jo
How To Be Me is an honest and tender look at what it feels like to be an outsider and to experience the pain of not being understood. How to Be Me made my heart cry out for Lucas, who lives in a world of plenty but who has so very little. Lucas might live in a house large enough to have a ballroom but it is also large enough for him to be almost invisible.
Lucas is starved of his father's attention and it is this sad fact that will tug at your heart strings and make you want to invite Lucas to stay with you for a while. Lucas's mum has died and his dad is so very busy with work and the arrangements for his forthcoming new marriage and so, somehow, Lucas just doesn't feel as if he fits in. Dad appears to be constantly disappointed by, or frustrated with, Lucas and this is narrated through Lucas's eyes with heart-wrenching realism. In an attempt to make a more confident version of Lucas, Dad enrols him into a drama club - much to Lucas's despair. The drama club idea is just another example of how Dad really doesn't understand his son - "Why does he never ask me?'"
Lucas is mortified at having to join a club, to speak out in front of others, but gradually he forges a friendship with Keely and through Keely, Lucas meets and interacts with her family; a family as far removed from his own as possible. Keely is full of confidence, she fits in and Lucas is in awe. At home, Lucas is alone; he has an au pair, but that's not the same as a dad is it? He also has two cats and they are his companions, his playmates, his reliable source of love and his reason for being.
When one of his beloved cats falls ill, it seems so cruel and unfair that one boy should endure so much heartache. But there is light and there is warmth. Lucas discovers friendship and learns to be proud of who he is. Lucas begins to stick up for himself and to express his views and when he does, your heart will sing.
The ending to this compassionate story gradually builds to a heart-warming crescendo and Lucas discovers that being Lucas is good enough - being Lucas is pitch-perfect. I loved the honest voice of Lucas and I was moved by his story. I ached for him and was thrilled for him, I cried for him and I smiled for him; I'm sure you will do the same.
272 pages / Review by Jo Clarke, teacher
Suggested Reading Age 9+
Ruth
An emotional story which makes it the perfect empathy read for children. Lucas is a lonely boy who appears to have everything, but we read on to discover that material possessions are no substitute for a loving happy family. During the holidays, he is placed by his remote and emotionally unavailable father in a drama club where he feels totally out of place. Thankfully he meets Keeley who is tenacious in her desire for friendship. Keeley's family could not be more different and through the characters, we can see the realities of their polar opposite lives. The drama club offers Lucas an unexpected chance to shine and when disaster strikes he saves the day!
Without spoiling the ending, the plot twist allows the chance for a happier ending. This increasingly sad narrative offers children a window into the life of a bereaved child and How To Be Me offers Librarians an accessible middle grade read for those students who have experienced loss in their lives.
It is written in an understated way so younger children can read the story and suitably supported can feel all the emotions in a safe way. I don't mind admitting it made me tearful but view this as a reflection of the powerful writing. Highly recommended for secondary children (suggested support for younger students).
272 pages / Reviewed by Ruth Cornish, school librarian
Suggested Reading Age 11+
Other titles