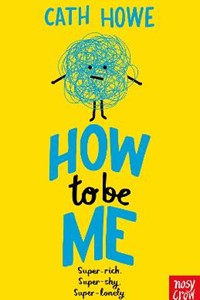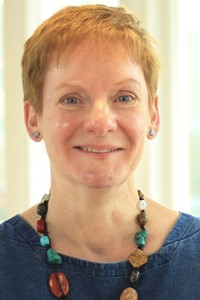 About Author
Cath Howe is an author and teacher working in South West London writing for, and working with, Key Stage 2 primary age children.

Nosy Crow published Ella on the Outside in 2018, Not My Fault a year later, and How to be Me in 2021. She has won prizes for stories, poems and monologues and even written a musical. 
Cath runs workshops in schools on everything to do with writing and performing, and her book Let's Perform, published by Bloomsbury, gives guidance in encouraging children to perform. 
Author link
Interview
How to be Me (Nosy Crow)
April 2021
Lucas has a rich and privileged life - but ballrooms, au pairs and the latest gadgets don't bring a family together, or stop you feeling lonely.  In this Q&A, Cath Howe tells us more about her latest novel, How To Be Me:
1.  Of the three books you've had published, do any of them stand out for you?
I think each book stands out while you are writing it. The responses to Ella On The Outside have been a real joy so I think it has a special place as my first Nosy Crow book.
2.  Can you tell us about your new book, How to be Me?

How To Be Me tells the story of Lucas who lives in an enormous house with its own ballroom, chandeliers and fountain. Lucas is very lonely and shy. Since Mum's death three years ago, he and Dad don't seem to connect.
As the summer holidays begin, a new au pair arrives to look after him and Dad has signed him up for a drama club. Lucas is horrified. Things are about to get tricky.
3.  What for you sparks a story - the plot, or the character? How do you begin?
Always character. The central character's voice plays in my head and I start writing their diaries and monologues, putting them in different situations and imagining what they might do.
4.  What was the kernel of the idea for How to be Me?
I was teaching in a very posh school. In the book we were reading, there was a front parlour in a house. I asked my class if any of them had a room "for best" that didn't get used much. A hand went up and a child said, "We have a ballroom that we don't use."
5.  The story is focused on Lucas and his father, and their not-so-good relationship. Why did you want to explore a father / son relationship in this story? 
The truth is I don't plan for something to happen, it happens because of the direction the story takes. Lucas' dad did begin to intrigue me, though. He does love Lucas, but he just has a narrow set of ideas about what a boy should be.
Sometimes a child is not going to fit in with a parent's plan. Dad is competitive and has lots of worldly success. But Lucas needs to feel part of a family and to be celebrated for who he is.
6.  Lucas loves to play the piano, but loathes the idea of going to a drama club. Did you draw on your own childhood experiences for either of these?
Yes, I taught Drama for many years and have always played the piano for myself, composing tunes and escaping into playing it, as a child. Both these things have made me happy.
Also, as a teacher, I always want to reach the children who start out hating drama. Quiet and shy children are often really sensitive performers, if they can find a way to relax.
7.  We don't often see rich children in stories, why did you give Lucas such a privileged (if difficult) background?
The character of Lucas and his home world were very clear to me from early on in the writing. The only world Lucas knows is this huge house. When he meets the 'real' world, he struggles. I kept asking myself, What does Lucas have? and What does Lucas need?
8.  Did you enjoy creating his house - and the ballroom!
I loved it. I drew lots of pictures and found photos in magazines and online. I could completely imagine the ballroom with its grand piano on a little stage.
9.  Who is your favourite supporting character in the story?
Lucas finds a new friend, Keely, and I love Keely's gran- she is everything a grown-up needs to be to support Lucas. She is just so warm and she gives him time! But I love Keely too because she is so direct and energetically alive.

10.  There's a magical well in the story. If you had a wish, what would you wish for?
The chance to wander round a beautiful bookshop with no worries and browse the books.
11.  Where and when are your favourite places and times to write? What are you writing now?
I'm currently working on a new book with Nosy Crow told in multiple viewpoints, all based in a school.
My favourite place to write is my 1857 clerk's desk where I stand to write. I write best in the morning but, once I have a book on the go, I make myself check in with it every day, even if I'm working in a school too.
12.  What three books would you recommend to our members?
At the moment, I'm keen to find books that bring me joy!
I would recommend:
The Bookshop Girl by Sylvia Bishop - just a delight from start to finish.
Anna At War by Helen Peters - a cracking story with a brilliantly tense crisis
Too Small To Fail by Morris Gleitzman - his voice is so beautifully judged.
13.  What are you most likely to be found doing when you're not working or writing?
I love music and being part of a choir. I also love to draw and I'm doing a course on creating graphic novels and finding it fascinating.
Thank you for your help with our questions!
Author's Titles