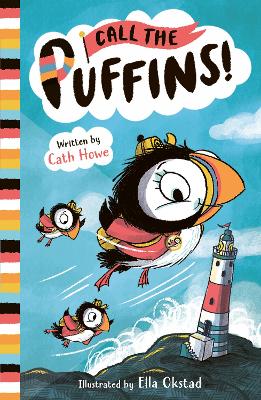 By Author / Illustrator
Cath Howe, illus Ella Okstad
Genre
Animals
Age range(s)
5+
Publisher
Welbeck Publishing Group
ISBN
9781801300360
Format
Paperback / softback
Published
03-03-2023
Synopsis
First in a delightful new series about puffins and teamwork - for readers aged 5+.   Welcome to the island of Egg where a group of young puffins are training to join a search and rescue team.   Meet Muffin who is following in her dad's footsteps and anxious not to let him down. Meet Tiny whose eyesight is a challenge which won't stop him for long. And meet Forti who seems so over-confident but is really desperate to impress.   Along with their fellow recruits, the puffins must work together to help all the birds on the island.
Find out more from author Cath Howe
Reviews
Lauren
Call the Puffins is the lovely tale of Muffin the Puffin and her exciting new adventure on the island of Egg! Muffin is a very special puffin because her feet are turned up, however, that doesn't stop her from flying and learning how to become part of the search and rescue team - just like her Dad.
When Muffin comes to the island she meets new friends, learns new skills and find a massive egg! However, just as her training is starting, an emergency on the island happens and it is down to the experienced and older puffins to save the day, not Muffin and her new friend, Tiny. When some exploring takes a turn, can Muffin and Tiny brave it and save the day?
I enjoyed reading the story as it touched on lots of different points throughout - bravery, friendships, new starts and being different. I also liked that at the back of the book was an element of non-fiction - information and facts about Puffins.
This would be perfect for children starting their chapter book collection. The illustrations are lovely and help bring the story alive. The story itself has a good pace and the chapters are a good length, making this feel more of a challenge for emerging readers. I think lots of children will enjoy the tale of Muffin and hopefully there will be more!
176 pages / Reviewed by Lauren Maidman, teacher
Suggested Reading Age 7+
Amanda
'I promise to be unflappable, to bravely cross the sea and sky, to rescue eggs and also birds, It may not work, but I will always try.' Muffin wants nothing more than to be an Unflappable. On the island of Egg a group of young puffins are training to join the search and rescue team. Follow Muffin the puffin's wonderful journey as she has so much to learn and so many friends to be make.
The carefully-designed plot in this young chapter book walks you through the wonderful adventures that Muffin has as she learns all that she needs to know and challenges herself. The theme of resilience and team work is key throughout and could easily be picked up if reading this as a class book. The non-fiction text about Puffins at the back of the book allows the reader to understand more about these amazing birds to identify how true to their character the author has stayed.
The fun illustrations and clear plot line will keep the reader engrossed and wanting more.
176 pages / Reviewed by Amanda, teacher
Suggested Reading Age 5+
Other titles