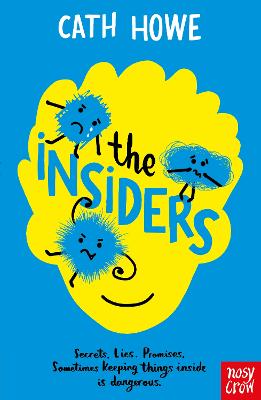 By Author / Illustrator
Cath Howe
Genre
Friends and family
Age range(s)
9+
Publisher
Nosy Crow Ltd
ISBN
9781788006125
Format
Paperback / softback
Published
05-05-2022
Synopsis
Secrets. Lies. Promises. Sometimes keeping things inside is dangerous. 
Callie, Ted, Zara, and Nico are best friends. More than friends - they're like family to each other. But since being embarrassed at school in a practical joke gone wrong, Ted has stopped talking to the rest of the gang.  And when Callie, Zara and Nico discover that someone has been living in their school, and sleeping in the building at night, they decide to investigate - without Ted.
A wise, heartwarming story of friendship and family, from the highly-acclaimed author of Ella on the Outside, Not My Fault, and How to be Me.
Find out more with author Cath Howe
Reviews
Sue
Callie, Nico, Ted and Zara are really close friends. Ted lives next door to Callie whose mum looks after him and the others after school. However, since an embarrassing incident at school, Ted has become quieter than ever, withdrawing from the group. When they notice a light on in school after hours, Callie, Nico and Zara decide to investigate. Watching from his garden, Ted can't believe his friends have not included him…
Cath Howe is an outstanding author whose books are so easy to read whilst sensitively exploring the feelings and worries of her characters. Each of her books to date has been a brilliant read and The Insiders is no exception. The story is told from the viewpoint of Callie, Ted and one of their classmates, Billy, who was responsible for Ted's embarrassment.
Through their eyes, the reader sees how easily things can be misinterpreted or misunderstood and the dangers of bottling feelings up and keeping them inside. There are many points in the story where an apology, persisting with a friend when they need support or seeking help, might have helped things turn out differently. For a teacher, there are some very uncomfortable moments in this story. The bullying Mr Dunlop is of a breed I had hoped had died out and surely someone in school should have picked up that something was not quite right with Billy's situation, but this in itself raises much to discuss and explore.
The story also reminds the reader that you never really know what is going on in someone else's life. With a class, there are many opportunities for role play and hot-seating activities, allowing children to explore different perspectives and consider how different characters were feeling, why they acted as they did and so on. This could be further explored through writing poems capturing those emotions or perhaps paintings to express their feelings.
Another not-to-be-missed gem from Cath Howe!
256 pages / Reviewed by Sue Wilsher, teacher
Suggested Reading Age 9+
Beverley
Callie, Ted, Zara and Nico are best friends. Callie and Ted, in particular, are very close. They've been friends since nursery school and Callie once called Ted her "nearly brother". Then Billy Feldon, the class clown, plays a joke on Ted and he's embarrassed in front of the whole school. Now kids are teasing him and he's withdrawn from his friends. When Callie, Zara and Nico discover that someone has been sleeping in their school at night, they decide to investigate - without Ted. Now Ted isn't speaking to them at all, and poor Callie finds herself keeping secrets from everyone and is overwhelmed with worry.
The Insiders is a beautifully written book about friendship, family and the importance of communication. The story is told from the points of view of three of the characters - Callie, Ted and Billy. This clever device gives a real insight into each of the children and allows the reader to empathise with them.
Callie is a lovely character, she tries to help everyone and in doing so manages to alienate Ted, which upsets her greatly. Zara is the maths geek, Nico the loud skateboarder and Ted is small, quiet but with a brilliant memory. Billy Feldon is an integral part of the story. He is irritating - he messes around in class and seems to be a bit of a pain. But as we learn more about him, we discover that all is not what it seems in his life and start to understand why he behaves the way he does.
Each chapter is relatively short, which helps the story move at a fast pace, sweeping us along to a dramatic and exciting conclusion. At the start of the novel, Callie says that "Friends are like the family you choose", and the author manages to take us right to the heart of that statement, and shows how important it is to talk to people if you have problems or worries. Despite their differences and disagreements, the long-standing friendship between Callie, Ted, Zara and Nico draws them back together, and they even manage to find room in the group for Billy.
I really enjoyed this novel and can see it being very popular with readers aged 9 and over. Now, can we have a sequel Ms Howe? I'd love to know what Ted and Billy get up to next!
256 pages / Reviewed by Beverley Somerset, school librarian
Suggested Reading Age 9+
Other titles