How to Save the World with a Chicken and an Egg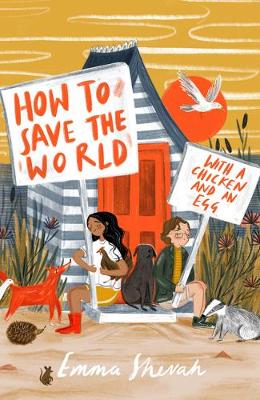 By Author / Illustrator
Emma Shevah
Genre
Environment
Age range(s)
9+
Publisher
Chicken House
ISBN
9781910655474
Format
Paperback / softback
Published
01-04-2021
Synopsis
A terrific environmental escapade from acclaimed author Emma Shevah! 'A truly excellent eco-adventure.' M. G. Leonard This story isn't just about birds. It's about secrets, the seaside, how seagulls can trick worms into thinking it's raining. It's about mucus, fudge and dogs needing a wide variety of sniffs. But if you want the simple version, it's about what happened here last summer. How a girl called Ivy and a boy called Nathaniel solved a mystery and saved the world's animals: one at a time ... A brand new topical and heartfelt middle grade adventure from the critically acclaimed writer of Dream on, Amber and Dara Palmer's Major Drama. A terrific positive-action mystery in the wake of Greta Thunberg - perfect for eco-aware young readers!
Reviews
Donna
Ivy Pink Floyd is no ordinary girl, she believes she can communicate with animals and tries her hardest to tell the good folk of Southwold what they need to do to make their pets lives better. Her foster father beseeches her not to make a rumpus so that she can continue to stay with them, and she dearly wants to stay, but she is driven to make the biggest rumpus there is until people listen to her and start to help animals.
Meanwhile, Nathaniel visits Southwold after his grandmother dies and he is forced to reconnect with his haphazard and chaotic mother. This does not fit well with Nathaniel's very ordered life and he struggles to understand the half sentences that his mother talks in.
Both Ivy and Nathaniel are interested in animals and a chance meet outside the library [where Ivy is reading a book to a chicken – relevant] where Nathaniel is busy sharing facts about wasps sees their non-friendship begin. This odd non-friendship is deepened when Ivy is drawn to do something about the impossible possible that she cannot tackle alone...but will the adults believe them?
Emma Shevah encapsulates the characters of Ivy and Nathaniel beautifully in this book written from their separate points of view. Their eccentricities and oddness make them both endearing and absorbing as characters. As their separate stories, thoughts and views are told and intertwined, the reader is taken on a surging ride of ecological importance that plants Ivy's message deep into our hearts.
How To Save The World With A Chicken And An Egg is a wonderful story, fabulously told, that should be read and shared by all. Its message should be shouted to the skies for all to hear. Age 7-11 This book makes excellent links to climate change, conservation, bereavement, broken families, celebrating difference, belief, perseverance and friendship.
320 pages / ages 7-11 years / Reviewed by Donna Burkert, teacher
Suggested Reading Age 9+
Other titles