How to Survive Time Travel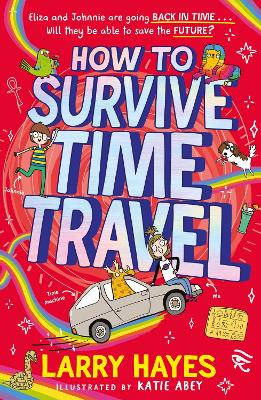 By Author / Illustrator
Larry Hayes, illus Katie Abey
Genre
Funny Stories
Age range(s)
7+
Publisher
Simon & Schuster Ltd
ISBN
9781471198366
Format
Paperback / softback
Published
26-05-2022
Synopsis
Lift off in the hilarious edge-of-your-seat adventure series that is a home alone story with a difference! Written by the inimitable Larry Hayes and hilariously illustrated by Katie Abey, this is the perfect read for fans of David Solomons, Tom Gates and Back to the Future!

Fresh from saving their parents from the jaws of frenzied billionaire Mr Noah, ten-year-old Eliza and her genius little brother, Johnnie, are called upon once again. Their parents have disappeared into thin air and it's up to the kids to save the day, travelling back in time to 5000 BC Egypt!  Can they overcome friendly locals, a mysterious boy-god, snakes, a rainbow-coloured Sphinx and another plot to end the world? And - most importantly of all - will they survive TIME TRAVEL?

For more out-of-this-world adventure don't forget to read about Eliza and Johnnie's first adventure in How to Survive Without Grown-Ups. Out now!
Reviews
Sam
How to Survive Time Travel is Larry Hayes' second book and while the story does continue from the first book, it is also just as good as a 'standalone' read. This laugh out loud story joins 10 year old Eliza and her genius brother Jonnie, as they travel back to Ancient Egypt in an attempt to rescue their parents. Following a rather unconventional clue sent by their Dad, Eliza and Jonnie must work fast if they are going to dodge interference by the school bully, Sadie Snickpick, and build themselves a time machine. Can Eliza, her young brother and Myrt the dog, overcome seriously itchy bug bites, a rather odd but strangely familiar Boy-God and a deadly python, to have any chance at all of finding their parents?
Suitably funny black and white illustrations by Katie Abey, will help keep less experienced readers focused, as they follow Eliza and Johnnie on their time-travelling exploits. I also really liked the 'footnotes' that are dotted throughout the book, adding yet another level of fun and interest to this fantastic book. On page 51, footnote number 9 explains Eliza's Dad's rule about the thinking hammock, in so far as no one in the thinking hammock can be disturbed. Even if the shed is on fire! It's almost as if Eliza is popping her head out of the page to give you this vital snippet.
Not wanting to give away any of the rather extraordinary events in this story, I can say that it is a real page turner and certainly doesn't follow the conventions of most time travelling adventure stories. In fact the ending left me quite speechless and very keen to read the next book in this series. A truly original story about adventure and time travel, perfect for readers in Lower Key Stage 2.
352 pages / Reviewed by Sam, teacher
Suggested Reading Age 9+
Jenny
How to Survive Time Travel is another thrilling and fun time travelling sci-fi adventure with Eliza and little brother Johnnie. In this second daring mission we join the siblings trying to solve The Riddle of the Sphinx's Bum as they travel back to around 5000BC to find and rescue their parents once again. Along for the ride is arch enemy, the fabulously named, school bully Sadie Snickpick.
I love the new tension this brings to the story as the animosity between the characters creates its own set of problems, relatable to many young readers. It is a madcap, frenzied and furiously fast paced fall through space and time where they encounter a sly and conniving Boy God.
The story is full of all sorts of bizzare, perilous yet hilarious dramas and mishaps (trying to avoid a hungry python; only being armed with a brussel sprout stick; avoiding a bird poo-fuelled bomb to name but a few) and it is a plot of lively and creative craziness.
At the centre of the chaos is the emotional heart of the story - the utter devotion between Eliza and Johnnie; the Girl Who Never Gives Up and the Boy Genius. They are determined and hopeful (though terrified and confused) and don't let each other give up, keeping faith in their mission to rescue their parents. They find strength in numbers too when even Sadie Snickpick has to be impressed by their resilience and ingenuity and she adds her own fierce skills to the mix.
Author Larry Hayes obviously has a knack for the ridiculous and comic scenes of the story (a lolly ice-filled sarcophagus, a volcano of parrot poo) but the scenes of Eliza and Johnnie tracking down their parents in the past are really very unexpectedly moving and touchingly written, too.
How to Survive Time Travel is a delightful whirlwind of adventure, comedy and heart. Charmingly joyous.
352 pages / Reviewed by Jennifer, teacher
Suggested Reading Age 7+
Other titles