How to Survive Without Grown-Ups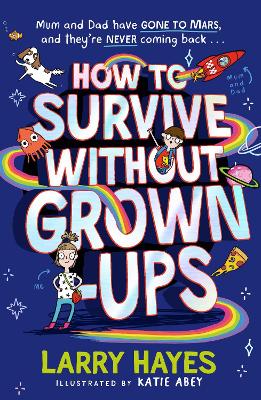 By Author / Illustrator
Larry Hayes, Katie Abey
Genre
Humour
Age range(s)
7+
Publisher
Simon & Schuster Ltd
ISBN
9781471198342
Format
Paperback / softback
Expected
19-08-2021
Synopsis
Get set for the new hilarious out-of-this-world adventure series for readers aged 8+ - this is the perfect new series for fans of Tom Gates, David Solomons and Star Wars! Highly illustrated throughout by the brilliantly funny Katie Abey.

Mum and Dad have left - gone to Mars, and they're never coming back . . . FREEDOM AT LAST!  But this isn't one of Dad's weird jokes; it's REAL. It's up to ten-year-old Eliza and her genius little brother, Johnnie, to find out what's going on, and launch a rescue . . .  Can they handle vampire squids, a suspicious villain, a secret island full of traps and a trip into space? And - more importantly - will they ever get their parents back?

The funniest, zaniest, most out-of-this-world adventure you'll read all year!
Reviews
Darcey

- Age 10
First of all, this incredible book has bits of all kinds of genres, including: bits of sadness, bits of happiness, loads of funny bits and sci-fi. There are so many fun adventures! This book is suitable for all kinds of book lovers and is an unregrettable read!
Suggested Reading Age 7+
Grace

- Age 9
How to Survive Without Grown-Ups is a very funny story about a brother and sister who explore a mystery of what happened when mum and dad went to space. A lot of cool things occur in this grand book! It makes me feel like I'm in the story watching it happen. I would recommend this book for 7-10 year olds, or someone who enjoys and adores a nice, funny and extraordinary book!
Suggested Reading Age 7+
Ezrah

- Age 10
Two children, Eliza and Johnnie, go on an epic adventure. The book was about a space rescue mission. The main character was Eliza Lemon. I read the book in a day, once I started I could not stop reading! I liked that it was a future friendly book and an interesting, comical, fiction book. It was also hilariously funny!
Suggested Reading Age 7+
Other titles