How to Survive Without Grown-Ups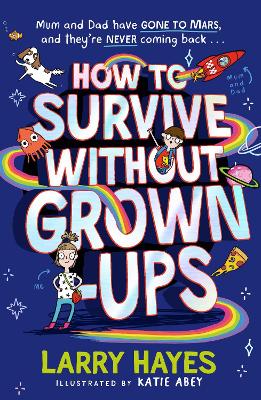 By Author / Illustrator
Larry Hayes, Katie Abey
Genre
Funny Stories
Age range(s)
7+
Publisher
Simon & Schuster Ltd
ISBN
9781471198342
Format
Paperback / softback
Published
19-08-2021
Synopsis
Get set for the new hilarious out-of-this-world adventure series for readers aged 8+ - this is the perfect new series for fans of Tom Gates, David Solomons and Star Wars! Highly illustrated throughout by the brilliantly funny Katie Abey.

Mum and Dad have left - gone to Mars, and they're never coming back . . . FREEDOM AT LAST!  But this isn't one of Dad's weird jokes; it's REAL. It's up to ten-year-old Eliza and her genius little brother, Johnnie, to find out what's going on, and launch a rescue . . .  Can they handle vampire squids, a suspicious villain, a secret island full of traps and a trip into space? And - more importantly - will they ever get their parents back?

The funniest, zaniest, most out-of-this-world adventure you'll read all year!
Q&A and Video with author Larry Hayes
Reviews
Ellen
How to Survive Without Grown-Ups is a fun, action-packed story about family, siblings and space travel!
Eliza hasn't always got on brilliantly with her younger, genius brother Johnnie - after all, it's not easy having a sibling who gets all the attention - but when their parents plan to head off to Mars on a one-way ticket to Mars without them, the children realise they will have to work together if they are going to get them back.  There follows a mad-cap story involving sofa-boats, robot chimps and a secretive billionaire with grandiose space ambitions.  
As the adventures unfold, Eliza and Johnnie learn more about each other and that, while Johnnie has the brains, Eliza has the imagination they will also need if they are ever to see their parents again.
This is a fun read with enough action and illustrations to keep readers aged 8+ engaged, giggling and invested in the children's adventure. From children driving a car in space to vampire squids, the story is packed with imagination and mad cap adventure but there is plenty of heart, too, as Eliza learns imagination can be just as important as brains, and family is more important than anything else.
Highly recommended, especially for children who are looking for an alternative to Tom Gates or My Brother is a Superhero series.
288 pages / Ages 8+ / Reviewed by Ellen Green
Suggested Reading Age 7+
Darcey

- Age 10
First of all, this incredible book has bits of all kinds of genres, including: bits of sadness, bits of happiness, loads of funny bits and sci-fi. There are so many fun adventures! This book is suitable for all kinds of book lovers and is an unregrettable read!
Suggested Reading Age 7+
Grace

- Age 9
How to Survive Without Grown-Ups is a very funny story about a brother and sister who explore a mystery of what happened when mum and dad went to space. A lot of cool things occur in this grand book! It makes me feel like I'm in the story watching it happen. I would recommend this book for 7-10 year olds, or someone who enjoys and adores a nice, funny and extraordinary book!
Suggested Reading Age 7+
Ezrah

- Age 10
Two children, Eliza and Johnnie, go on an epic adventure. The book was about a space rescue mission. The main character was Eliza Lemon. I read the book in a day, once I started I could not stop reading! I liked that it was a future friendly book and an interesting, comical, fiction book. It was also hilariously funny!
Suggested Reading Age 7+
Other titles