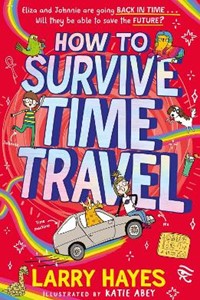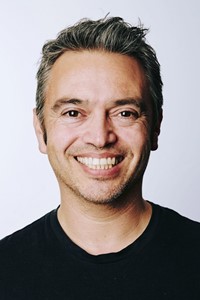 About Author
Larry Hayes talks about siblings, time travel, and his new book, How To Survive Time Travel.  When he's not writing, Larry helps run an investment fund, and is a trustee for a homeless charity. Before lockdown, he homeschooled his two kids every Friday, letting them decide what to study. In the future he hopes to become a treasure hunter, invent a yoghurt that makes you happy, and solve the maths behind the human brain. 
Katie Abey is an illustrator who lives in a teeny hobbit-like house in Derbyshire with a cat, a hedgehog, a small human and a rainbow-haired husband.
Interview
How To Survive Time Travel (Simon & Schuster Children's Books)
June 2022
When Eliza and Johnnie's parents disappear AGAIN, they need their children to rescue them and send a couple of clues from thousands of years in the past, where they are now trapped!  Suddenly the children are facing another life-threatening adventure involving a sworn enemy, lots of threatening creatures, and a pyramid with a dangerous secret... all of which happens many thousands of years ago.
Read a chapter from How to Survive Without Grown-ups
Read a chapter from How to Survive Time Travel
Q&A with Larry Hayes
1.   Can you tell us about your first book, How to Survive Without Grown-Ups?
I wanted to write a book so exciting and so funny you couldn't put it down. How to Survive Without Grown-Ups Is set 30 years in the future and shows what kids will be doing in 30 years' time when tech is even more amazing than it is now. We're talking hoverboards-that-finish-your-homework level tech.
But even in the future family and friends will still be the most important thing - and the heroes of our story (Eliza, Johnnie and their angry dog, Myrt) must rescue their parents from an evil Billionaire who's trying to send them to colonize Mars.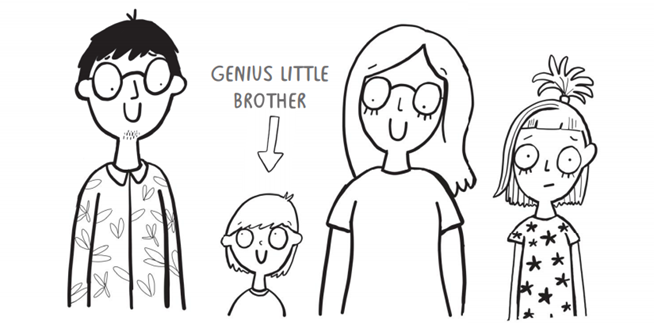 2.   Why did you decide to follow up with a time travel theme in How to Survive Time Travel?
I've always loved time travel stories - having the whole of space and time to explore is really fun. Most of all, I love the idea of going back in time to solve some of the mysteries of the past. Like, what's really inside the pyramids? How did apes become super-clever humans? And why did giraffes really get long necks?

3.   Do you know what's going to happen when you start writing each book? Or do you have no idea but enjoy the ride?
The books are a rollercoaster from start to finish. I have a rough idea of where it's ending - but the loops and crashes and disasters all emerge as I'm writing. The best bit is writing your heroes into a desperate impossible-to-escape situation and then having to come up with a brilliant and funny escape.

4.   What do you enjoy the most about writing these books?
I love being funny and making readers be happy and afraid and excited all at the same time. A lot of comedy in kids' books sticks to a narrow, limited type of humour. But there's no reason for that - kids find everything funny. All the comedy tropes in adult books like Terry Pratchett's and Douglas Adams' can work for kids too. So there's so much stuff you can pack in that just makes people laugh and feel great.
I also like writing the cliff-hangers and weaving mysteries into the books that slowly revel themselves, the more books you read in the series. Basically, I love writing books that I would love to have read as a kid. Some books were so good I remember putting my head on the radiator to get out of school - so I could stay at home reading all day. And that's what I think about when I'm writing - is this good enough that I'd have wanted to fake an illness to get off school.

5.   The books ARE very funny - but do your children really help you with the jokes?
Yes - I don't know what I'm going to do when they grow up and leave home. Both my kids are really into making jokes and spotting what makes things funny in books and movies. They come up with funny things they think could work and then I write them on the fridge in felt tip. Then I take photos - wipe the fridge and start again.
The saddest thing is when a joke gets smudged before I can photo it and is lost forever… Also, with are a few things, I just can't remember idea why I wrote them down. The words "SLOW MOTION CHICKEN" have been on our fridge for three years and I've no idea why.

6.   What's the funniest moment in How to Survive Time Travel?
I think it's when all is lost and they're about to be sacrificed into a man-made super-volcano and they escape with a Sherbet Lemon.

7.   Can you tell us about the new character in this story, the school bully Sadie Snickpick?
Sadie Snickpick is a super-bully, whose secret power is that she doesn't care what anyone else thinks. That makes her a monster, but it also teaches Eliza that we can care too much what other people think - that you need to get the balance right. If we worry too much about pleasing other people, then life can get really hard and stressful.
But because Sadie Snickpick is so extreme, it also means she can do some totally outrageous stuff. Like, "dutch-ovening" teachers and "spit-balling" other kids' parents.
8.   They live in 2053. What's the best thing in your book about living in the future?
In the future school will be a lot easier and a lot shorter. We'll be able to learn stuff much more quickly - and mainly when we're asleep. So we'll have more time to do fun stuff at school, like building jetpacks.

9.   As we're looking into the future - what would a writer's shed in 2053 look like?
It would be squishy, glass ball - like a massive hamster ball and it would take you wherever you wanted to go - either by flying or you'd have to run like a hamster. But don't worry, it would be soft and springy so you'd just bounce off stuff. The glass would go shady if it got too sunny, and the writing chair would be a giant massage chair - like you find in motorway service stations. Except it would also give you a hug when you got writer's block. Oh, and there would a thing for turning you upside down if you needed some extra ideas.

10.  How to Survive Time Travel ends on a bit of a cliffhanger - what's next for the siblings?
At the end they're flung forward in time - and Eliza ends up really far into the future. I've just finished book three, How to Survive the Future, and it's great fun exploring what happens to humankind in the far future. I can't give too much away, but it's a future most kids will absolutely LOVE (and most grown-ups will be totally horrified by). We also learn some of the secrets about Eliza Lemon and why she's so special. And we discover her destiny, as the guardian of planet Earth.

11.   What do you think of Katie Abey's illustrations? Do the characters look how you imagined they would?
It's so hard to remember how I originally imagined the characters. Katie Abey's drawings are just so perfect - I now can't imagine them any other way. The brilliant thing about writing with Katie is the excitement of imaging how an illustration is going to turn out. I write down an illustration description and then it's like Katie's pen is a magic wand that makes everything funnier and cuter and lovelier than you could possibly ever imagine. To be that talented is such a huge gift.

12.   You have a day job, so when do you find time to write? Do you have other books planned?
Yes, I spend a lot of my time writing now, it's just too much fun. I've got another three books planned in this series. And a new mystery-thriller series planned that I'm very excited about. And I've written a non-fiction comedy book that's coming out next year - it's full of 101 Secrets that Grown-Ups won't tell you - stuff that you can't learn at school but that's super-useful. Like: How to Tell if Someone's Lying, How to get a Jedi Mind Power, How to Win a Dance Battle, and How to get Away with the World's Funniest Practical Joke.

13.   What's your favourite escape from all things work / writing?
I like gaming with an EEG machine (a brain monitor) instead of a console. So you do stuff with just your mind power. Basically it's a cheat method for meditating and becoming totally zen. I also like going on marathon walks with somebody, where you just walk and talk for 10 hours about whatever nonsense comes into your head.
How to Survive Time Travel by Larry Hayes is out now (Simon & Schuster Children's Books)
In this short video, author Larry Hayes tells us about siblings, imagining the future, and a trip to Nasa that helped inspire his first children's book, How to Survive Without Grown-Ups (Simon & Schuster Children's Books).
Author's Titles