How to Talk to a Tiger... and other animals: How Critters Communicate in the Wild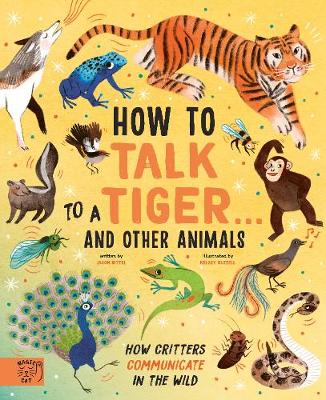 By Author / Illustrator
Jason Bittel, Kelsey Buzzell
Genre
Animals
Age range(s)
7+
Publisher
Magic Cat Publishing
ISBN
9781913520076
Format
Hardback
Published
29-04-2021
Synopsis
Ever wanted to talk to a tiger?
Or chatter with a cheetah?
Or yak with a yak?

This book brings together a babble of more than 100 beasties and explores the amazing ways they talk to each other - from fish that fart, to alligators that dunk, to fire worms that flash, you'll discover that wildlife have the strangest ways of sending a message...
Reviews
Hayley
How to Talk to a Tiger by Jason Bittel is a beautiful non-fiction book all about how animals communicate. From the very first page, communication is at the heart of this book which seeks to remind you of the stark differences between how humans and animals interact.
This book is sectioned into four categories: sight, sound, smell and touch. Each section then explores the unique ways in which some of the amazing creatures that grace our planet communicate. It explores how Jackdaws communicate with their eyes and how gorillas have learnt to use sign language, as well as fruit bats using sound from their wings. The factual information that is used is intriguing as well as thorough. Children will love being able to gain so much knowledge and understanding from the text, which is also supported by some fabulous illustrations by Kelsey Buzzell.
When reading this book, I found the text humorous and entertaining whilst enjoying the layout of each page, which was simple yet effective. I really like how the key information was highlighted in bold and how the illustrations supported the text. I would recommend this book across Key Stage 2 and feel that it would particularly support topics focused on marine life, predators and our planet. Every library in primary school should have a copy of this book for children to enjoy and read for pleasure.
60 pages / Reviewed by Hayley Summerfield, teacher
Suggested Reading Age 7+
Other titles