How Was That Built?: The Stories Behind Awesome Structures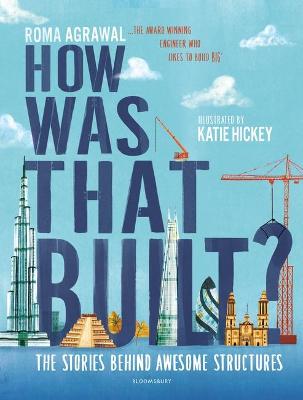 By Author / Illustrator
Roma Agrawal, Katie Hickey
Genre
Non Fiction
Age range(s)
9+
Publisher
Bloomsbury Publishing PLC
ISBN
9781526603654
Format
Hardback
Published
16-09-2021
Synopsis
Join Roma Agrawal, the award-winning structural engineer who worked on The Shard, for an exciting behind-the-scenes look at some of the world's most amazing landmarks. 
Meet the extraordinary people who challenged our beliefs about what's possible, pioneering remarkable inventions that helped build the Brooklyn Bridge in the US, the Pantheon in Italy, the Burj Khalifa in Dubai, the Shard in England and the Sapporo Dome in Japan. Discover the ingenious methods engineers have come up with to enable us to build underground, underwater, on ice and even in space. And learn about the impact different forces and materials can have on a structure by carrying out your own engineering experiments from the 'Try it at Home' sections.
Beautiful and detailed illustrations by Katie Hickey, including cross-sections, skylines and close-ups of engineering techniques in action, provide unique and illuminating perspectives of our most awe-inspiring constructions. Get ready to see the built world around you like never before!
Reviews
Kelly
How Was That Built? is fascinating non-fiction in picture book disguise, with story-type narratives that flow throughout like a river ebbing through a city. For budding engineers and those interested in the intricacies of how some of the world's most awe-inspiring buildings, tunnels and bridges have been created, from mere aspirations to reality, look no further than How Was That Built? 
Stunning illustrations by Katie Hickney breath life into buildings that we use daily but haven't considered how they come to be, captivating the reader and immersing them in the wonderful world of how these magnificent creations are built.
Author Roma Agrawal draws threads together to provide a patchwork of knowledge from geography, history, maths and science. Spanning seven continents, each double-page spread breaks down concepts into bitesize chunks, allowing the reader to dip in and out of the book. Analogies are used to explain otherwise difficult concepts, making this a great book for children to pour over or be used as a support to classroom teaching.
Clear and concise explanations make this the perfect digestible book for children to understand the buildings and infrastructure from design to reality. A thought-provoking, must-have book for the classroom bookshelf or library.
80 pages / Reviewed by Kelly Buxton, teacher
Suggested Reading Age 7+
Other titles