How Winston Delivered Christmas: A Christmas Story in Twenty-Four-and-a-Half Chapters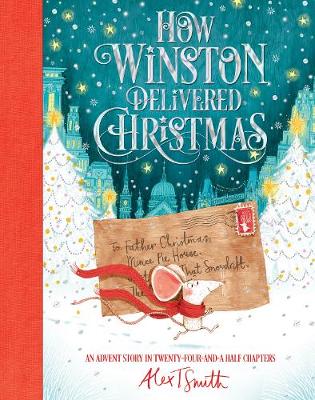 By Author / Illustrator
Alex T. Smith
Genre
Adventure
Age range(s)
5+
Publisher
Pan Macmillan
ISBN
9781509851522
Format
Hardback
Published
18-10-2018
Synopsis
From Alex T. Smith, bestselling author of the Claude series, comes How Winston Delivered Christmas - the irresistible story of the brave little mouse who sets out on an adventure on Christmas Eve. Featuring beautiful colour artwork from the author and Christmassy activities to make-and-do throughout, this gorgeous book is sure to become a festive family tradition that will be enjoyed year after year.

Winston the mouse is on a Very Important Mission. On Christmas Eve, he finds a letter that has gotten lost on its way to Father Christmas - so, with no time to lose, he sets out to deliver it himself in time for Christmas Day! He has a lot of Very Exciting Adventures on his Very Important Mission and makes some wonderful friends along the way.

Each chapter includes it's very own festive activity for all the family to enjoy together - including writing a letter to Father Christmas, making mince pies, designing your very own Christmas cards, making presents, creating decorations, and so much more!

This beautiful hardback features a festively foiled jacket, a ribbon marker and head and tail bands, making it the perfect Christmas gift.
Reviews
Nikki
This glorious chapter book is the go-to book for advent treats and I'm sure will become an annual tradition to revisit and enjoy over the Christmas period.
The story follows a bold young mouse who finds himself on a most important mission. Whilst trying to snuggle down and keep himself warm through the bitterly cold winters night, Winston discovers a letter. Although this is no ordinary letter, no, this is a letter bound for Santa from a young boy named Oliver. Winston is a very clever little mouse and knows all about father Christmas and the North Pole and so he quickly realises that this undelivered letter is very important and must reach him so that nobody is left forgotten about on Christmas day. Winston decides to deliver the letter himself and has lots of exciting adventures along the way, meeting some wonderful furry friends who lend him a helping hand on his travels.
How Winston Delivered Christmas is split up into 24 and a half chapters; one for every day in December leading up to Christmas day. Each chapter is just three pages long which makes it perfect for young minds to digest without becoming too overwhelming to follow. Each chapter is also broken up with intricately detailed, stunning illustrations for children and adults to explore, just enough to keep children gripped and pull together those sumptuous images building in our minds. I love the random double page spreads of background colour and feel these really work well to break up what could look like a daunting read for its size for young children just beginning to move on from picture books.
This book has lots of lovely little additions, the text is written in a such a warm and inviting way. The 'How to read this book' chapter at the beginning is very sweet and immediately gripping. At the end of each chapter there is a Christmas activity to do, these range from arts and crafts, baking, writing letters to Santa and even tips on how to spread holiday cheer with 'random acts of kindness'. Our favourite of these little additions was the 'International Christmas Traditions' - this page had little snippets of information about different Christmas traditions around the world that we found both interesting and hilarious.
Each of the ideas for Christmas activities to make and do are given as a set of instructions, making this book fantastic to use in the classroom in December when children are in 'Christmas countdown' mode but as we all know, work still needs to be completed. This would be great to use when teaching children about the features of instruction texts and getting the children to write their own for a Christmas activity of their choice. Tried and tested in year 1 and the outcome was great!
This book is perfect to give as a gift and equally as delightful to use as a class text.
176 pages / Ages 5-9 years / Reviewed by Nikki Stiles, teacher.
Suggested Reading Age 5+
Other titles